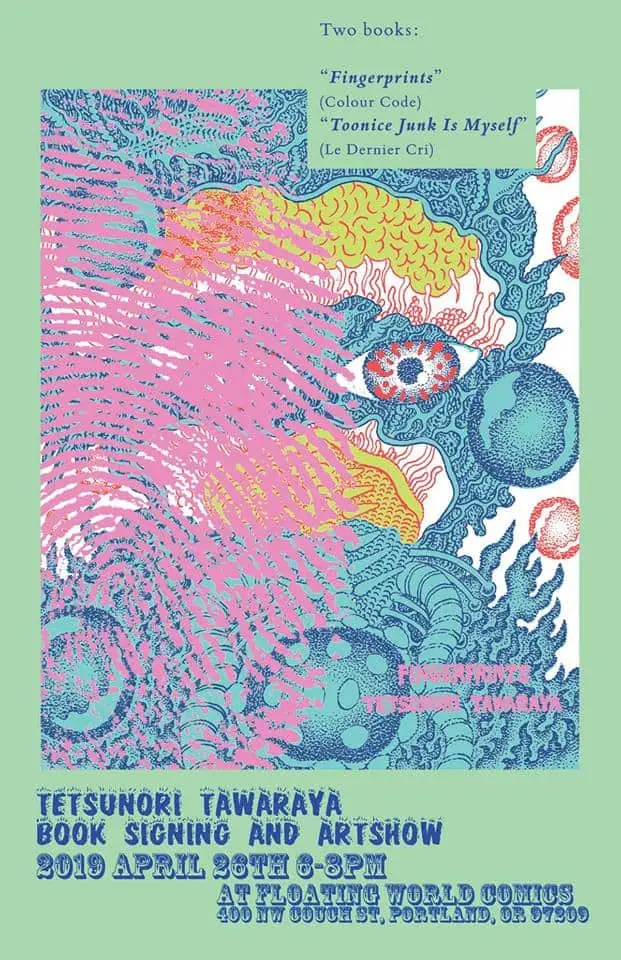 Japanese artist Tetsunori Tawaraya returns to Portland on Friday, April 26 to share his two newest print publications.
Fingerprints is a 2019 risograph book illustrated by Tetsunori Tawaraya. The idea of this illustration book centers on a young researcher who acquires a job at a Golden Dawn Laboratory, and searches the spices with rare "octagon fingerprints" in outer space. The researcher encounters the creatures such as space inhabitants, undiscovered organics, and they were skillfully stippled by Tawaraya with no dialogue. This is his fourth coil bound book with various size interiors on Colour Code.
Toonice Junk is a 13 color silkscreen accordion book. Limited edition of 200 copies printed by Le Dernier Cri.
16 cm / 22 cm – 42 pages / 3 accordions with folded cover / Fedrigonni 260 gsm paper
WHO: Tetsunori Tawaraya
WHAT: Fingerprints & Toonice Junk double release party
WHEN: Friday, April 26, 6-8pm
WHERE: Floating World Comics, 400 NW Couch St.
TETSUNORI TAWARAYA is originally from Miyagi, resides in Tokyo. In the late 90s he started drawing portraits of people and musicians in San Diego, CA. In 2002 he formed Tokyo based noise rock duo 2up (pronounced up up). Released on SAF Records, Ache Records, and Toad Records in later years. His works were subsequently published by Hollow Press (Italy), Le Dernier Cri (France), and Colour Code (Canada). Collaboration with Braindead (Los Angeles) and Volcom (Costa Mesa). His work continues to be highly influential.
Floating World Comics
400 NW Couch Street, Portland, OR 97209
(503) 241-0227