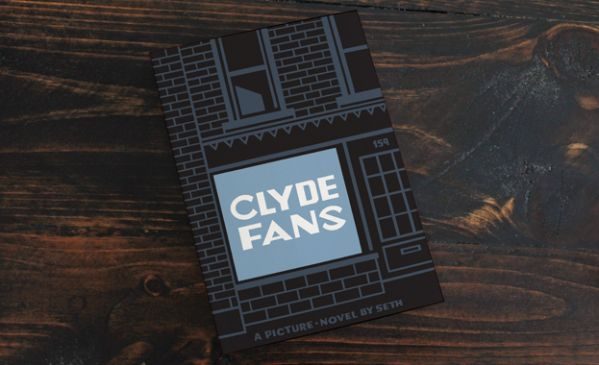 Join acclaimed cartoonist Seth on Tuesday, May 7, 2019 at 7 PM for a discussion and book signing to launch Clyde Fans, his highly-anticipated masterpiece. Clyde Fans follows Abe and Simon Matchcard, two brothers whose lives are defined by their doomed family business, selling oscillating fans in a world switching to air conditioning. Seth's incisive storytelling and gorgeous urban landscapes are showcased in this epic yet intimate time capsule of the mid-century capitalist dream. Seth will be speaking with Gil Roth, host of The Virtual Memories Show.
Admission Options: Buy a copy of Clyde Fans or a $15 gift card to attend this event. Please note that payment is required for all online event orders at the time of checkout. The event will be located in the Strand's Rare Book Room, located on the 3rd floor of our store at 828 Broadway at 12th Street. Doors open 30 minutes before the start of the event.
ABOUT SETH:
Seth is a cartoonist, illustrator, and book designer. He has published a dozen graphic novels with Drawn & Quarterly, including George Sprott, It's A Good Life, If You Don't Weaken, and Wimbledon Green. His comics have also appeared in the New York Times Magazine, Best American Comics, and McSweeneys Quarterly. His illustrations have appeared in numerous publications including on the cover of the New Yorker. He is Lemony Snicket's partner for the series All the Wrong Questions. In 2014 he was the subject of a National Film Board documentary entitled Seth's Dominion. Seth lives in Guelph with his wife Tania and two cats in a house he has named Inkwell's End.
ABOUT GIL ROTH:
Gil Roth is the host and creator of The Virtual Memories Show, a weekly podcast featuring conversation with writers, cartoonists, artists, musicians, translators and other culture-makers. Past guests include Roz Chast, Harold Bloom, Moby, Irvine Welsh, Molly Crabapple, Jules Feiffer, Nathan Englander, Liz Hand, and Jonathan Ames, among 300+ -others.
Strand Book Store
828 Broadway, New York, NY, 10003-4805
(212) 473-1452