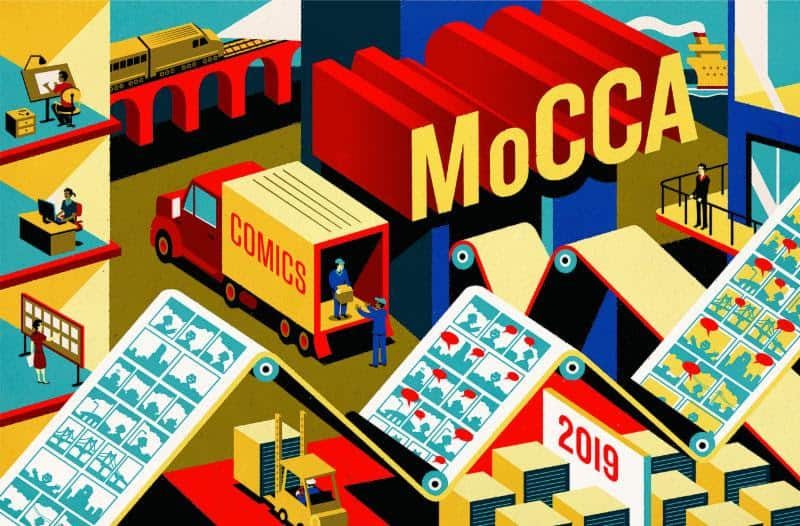 Press Release:
The Society of Illustrators is proud to announce a robust and distinguished programming schedule for the 2019 MoCCA Arts Festival, taking place April 6-7. This year's programming will take place at the beautiful Ink48 Hotel (653 11th Avenue at 48th street), steps away from our primary venue, Metropolitan West at 639 West 46th Street.
Organized by Best American Comics Series Editor Bill Kartalopoulos, this year's programming includes spotlight sessions with all of this year's MoCCA Guests of Honor: Gaylord Phoenix artist Edie Fake, New Yorker cartoonist Liana Finck, K Chronicles artist Keith Knight, and Emmy-nominated artist Bill Sienkiewicz. Finck will appear in conversation with cartoonist Gabrielle Bell, and Sienkewicz will discuss his career alongside artist Klaus Janson.
Featured guest Mark Alan Stamaty will also take the stage in a spotlight session, alongside conversations including our distinguished international guests Aisha Franz, Michel Kichka, and Florent Ruppert. Mike Dawson, Sarah Glidden, and James Sturm will discuss work that addresses political themes within a narrative context.. Emily Flake, Sacha Mardou, and Lauren Weinstein will address comics about the experience and work of motherhood. Other panels will feature luminaries including Marisa Acocella, Ivan Brunetti, Liza Donnelly, Mort Gerberg, Julian Glander, Tom Hart, Abby Jame, Keren Katz, and others.
The School of Visual Arts Continuing Education will host a series of roundtables focusing on professional developments. Panelists include Emma Allen (The New Yorker), Matt Lubchansky (The Nib), artists Josh Bayer, Fran Meneses, Julia Rothman, Andrea Tsurumi, and others.
Click here to view the Saturday Programming Schedule and here to view the Sunday Programming Schedule. Each programming event will last one hour, with a half hour break between programming events. Admission to programming is included with MoCCA Arts Festival admission. All seating is available on a first come-first served basis. Price of admission is $10 per day and will grant attendees access to the Fest including the Exhibitors Hall, on-site Gallery space, and programming. Tickets will be available for purchase at the door. Children under twelve are free. More information about the Fest can be found here.