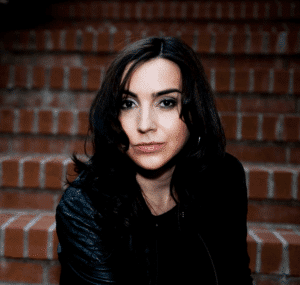 Press Release:
Anime Boston, the largest anime convention in New England, announced its ninth North American guest today. Voice Actor, Director, and Producer Lisa Ortiz will be appearing at Anime Boston at the Hynes Convention Center, Boston, Mass, on April 19 through 21, 2019.
Lisa Ortiz is a New York based veteran voice actor, director and producer. Her career as a voice over artist began under the shroud of an attempted auto larceny gone awry. No really, ask her yourself. She'll tell you.
She is most well known for her role as Lina Inverse in Slayers, and Amy Rose in Sonic the Hedgehog, but she began her career as the high elf Deedlit in Record of Lodoss War. Since then she has gone on to record dozens of anime, series, audio books, video games, and films both as a voice and as a Producer, Director, and Adapter.
Lisa is currently the director of Pokemon Sun and Moon and has worked on the show in various capacities over the years since the Indigo League. Lisa has voiced many characters over the years: Misty's older sister Daisy, Sabrina, Flannery, Oshawatt, Fletchling, Litten, Korrina, Torracat, and Poipole.
She can currently be heard as Mini in RoboCar Poli, Noembelu in Street Fighter V, as well as on the Nickelodeon Show Royal Academy, amongst others. Her favorite roles include: Serenity Wheeler in Yu-gi-oh; Tony Tony Chopper in One Piece; Shiori in Revolutionary Girl Utena; Rina in Time of Eve; The Devil in Gangstar 4; Musa/Icy in Winx Club; Azalyn in The Irresponsible Captain Tylor; and Tsubasa Shibahime in His and Her Circumstances.
Directing credits include: Psychic School Wars, Norm of the North, The Dark Knight Rises, Dungeon Hunter 5, and Netflix's Heroes United. She is President of Noise of O Productions, and currently resides in NYC with her fabulous felines Fitz and Boudica (Boodie); she does not own a car.
Previously announced guests include Billy Kametz, Tara Sands, Greg Ayres, Yoko Shimomura, Johnny Yong Bosch, Kenji Kodama, Naohiro Ogata, Yoichi Kato, Richard Epcar, Ellyn Stern, and MIYAVI, Leah Clark, and Kara Edwards.
About Anime Boston: With over 25,000 attendees in 2018, Anime Boston is an annual three-day Japanese animation convention held in Boston, Mass. Anime Boston 2019 is scheduled for Friday, April 19 through Sunday, April 21 at the Hynes Convention Center and Sheraton Boston Hotel. More information about Anime Boston can be found at www.animeboston.com.
About New England Anime Society, Inc.: The New England Anime Society was founded in 2001. Based in Massachusetts, The New England Anime Society, Inc. is parent organization of Anime Boston and is dedicated to furthering public education and understanding of the Japanese language and culture through visual and written media. More information about The New England Anime Society is available at www.neanime.org.