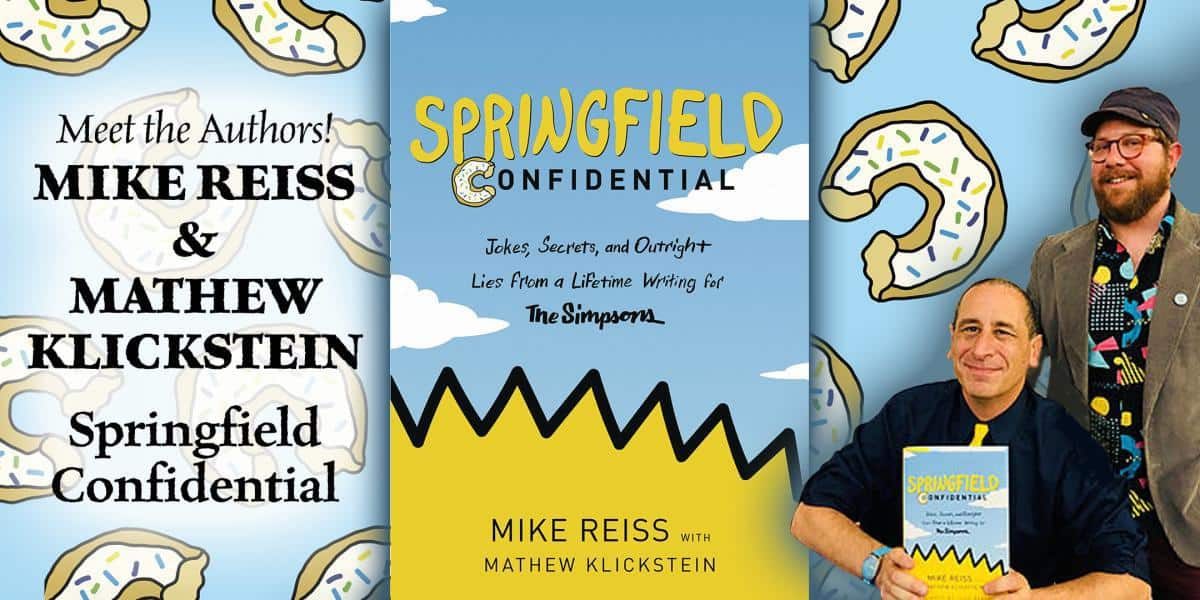 Mike Reiss and Mathew Klickstein appear at Tattered Cover Book Store on Thursday, April 11, 2019 at 7:00 PM to discuss nd sign Springfield Confidential, a best-selling memoir of Reiss's three decades at The Simpsons.
Writer and producer Mike Reiss has won four Emmys and a Peabody Award during his twenty-eight years working on the The Simpsons. He is the longest-serving writer and producer of the show. Mathew Klickstein's writing has appeared in such publications as Wired, New York Daily News, and Splitsider. He is a screenwriter, producer, and author of SLIMED! An Oral History of Nickelodeon's Golden Age.
They will discuss and sign Springfield Confidential: Jokes, Secrets, and Outright Lies from a Lifetime Writing for The Simpsons, which shares stories, scandals, and gossip about working with America's most iconic cartoon family ever. Reiss explains how the episodes are created, and provides an inside look at the show's writers, animators, actors and celebrity guests. He answers a range of questions from Simpsons fans and die-hards, and reminisces about the making of perennially favorite episodes.
Tattered Cover
2526 East Colfax Avenue, Denver, CO 80206
(303) 322-7727