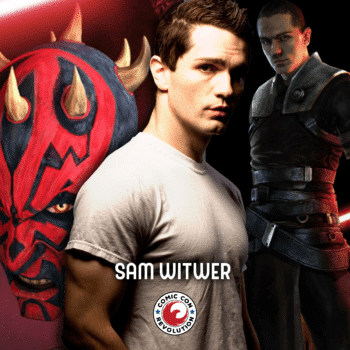 Darth Maul Voice Actor and Supergirl Villain, Sam Witwer Is Coming to Comic Con Revolution
FOR IMMEDIATE RELEASE
New York, March 19, 2019– Atomic Crush Events' (ACE) Comic Con Revolution Ontario (CCROnt) is proud to announce that actor Sam Witwer is attending this year's #CCROnt on Saturday, May 18 & 19, 2019.
Witwer, longtime voice behind Sith Lord Darth Maul in Star Wars:The Clone Wars, Star Wars Rebels and SOLO as well as Supergirlvillain Agent Liberty, will be a guest at Comic Con Revolution Ontario on May 18thand 19th.  He will be meeting fans, signing autographs and taking pictures both days.  A special panel with Sam is planned that will highlight his extensive contributions to the Star Wars universe.
Voicing the complex character of Darth Maul isn't Witwer's only Star Wars work.  He was also the voice and model of Starkiller for The Force Unleashedand The Force Unleashed 2video games.  Additionally, he played the villainous Doomsday inSmallvilleand Lt. Crashdown in Battlestar Galactica.
"Sam is an incredible part of the Star Wars universe and having him as a guest at Comic Con Revolution is a thrill for us all," said ACE Co-Owner and Founder Drew Seldin.  Seldin added, "his work on both Smallvilleand the current season of Supergirldefinitely make him a fan favorite."
Witwer joins an ever growing and exciting list of guests slated to be featured at Comic Con Revolution. From one of the largest comic creator gatherings in Southern California to celebrating the 35th Anniversary of The Transformers featuring a rare appearance by the voice of Optimus Prime, Peter Cullen, CCROnt has something for everyone.
Guests currently scheduled to appear include: Matthew Atchley, Greg Baldwin, Michael Bell, Gregg Berger, Colin Cantwell, Sandy King Carpenter, Ming Chen, Amy Chu, Ryan Cody, Mike Collins, Amanda Conner, Michael Copon, Peter Cullen, Gigi Edgley, Neo Edmund, Paul Eiding, JoeEisma, Adam Faberman, Carlos Ferro, Stephan Franck, Dan Gilvezan, Joel Gomez, Steven Gordon, Matt Haley, Travis Hanson, Chad Hardin, Ray-Anthony Height, Megan Hutchison, Santa Inoue, Ryan Kincaid, Jeff King, DJ Kirkbride, Mike Kunkel, Phil LaMarr, Mindy Lee, Ian McGinty, Michael McMillian, Todd Nauck, William O'Neil, Alan Oppenheimer, Pernile Orum, Eric Palicki, Jimmy Palmiotti, Carla Perez, Alexander Polinsky, While Portacio, Livio Ramondelli, Jules Rivera, Jake "The Snake" Roberts, Neil Ross, Stan Sakai, Fabrice Sapolsky, Patrick Scullin, Armand Serrano, Beth Sotelo, Nick Spencer Koi Turnbull, Gus Vazquez, Angi Viper, Tommy Walker Dan Wickline and Mike Zeck.
Order your tickets to Comic Con Revolution today at https://www.comicconrevolution.com/ontario/
Tickets purchased at the door will be $5 more per ticket.  In addition to the savings, advanced ticket holders will receive a limited edition art print of Jetpack Jules the CCR mascot featuring art by Amanda Conner.  Advanced tickets purchases come with a home mailing option as well as allowing ticket holders access to the show floor up to one hour early.
For more information go to http://www.comicconrevolution.com/ontario
https://www.facebook.com/ComicConRevolution
https://twitter.com/ComicConRvltn
https://www.instagram.com/comicconrevolution
About Comic Con Revolution
Comic Con Revolution was founded on very simple principles.  We are excited to celebrate comics and the creative arts.  At the absolute core of what we do are the creators themselves.  The people who create the comics, games, toys, film, movies and more that we all love.  Without their tireless dedication to creating the fantastic worlds we all get lost in, events like Comic Con Revolution would not be possible.  We strive to create the best possible experience for attendees, exhibitors and guests alike.  Our team of event industry veterans are dedicated to working hard to create that experience for each of you.
About Atomic Crush Events
Atomic Crush Events is an event consultation, management and production agency that was founded on experience and innovation. Bringing together expertise in event management, marketing, sales and business development to create a unique team that will conceptualize your idea and bring it boldly to life. Our philosophy is simple — create the best experience possible for attendees, exhibitors and guests alike.
More information is available atwww.atomiccrushevents.com
https://www.facebook.com/AtomicCrushEvents
https://twitter.com/AtomicCrushEvnt
https://www.instagram.com/atomiccrushevents