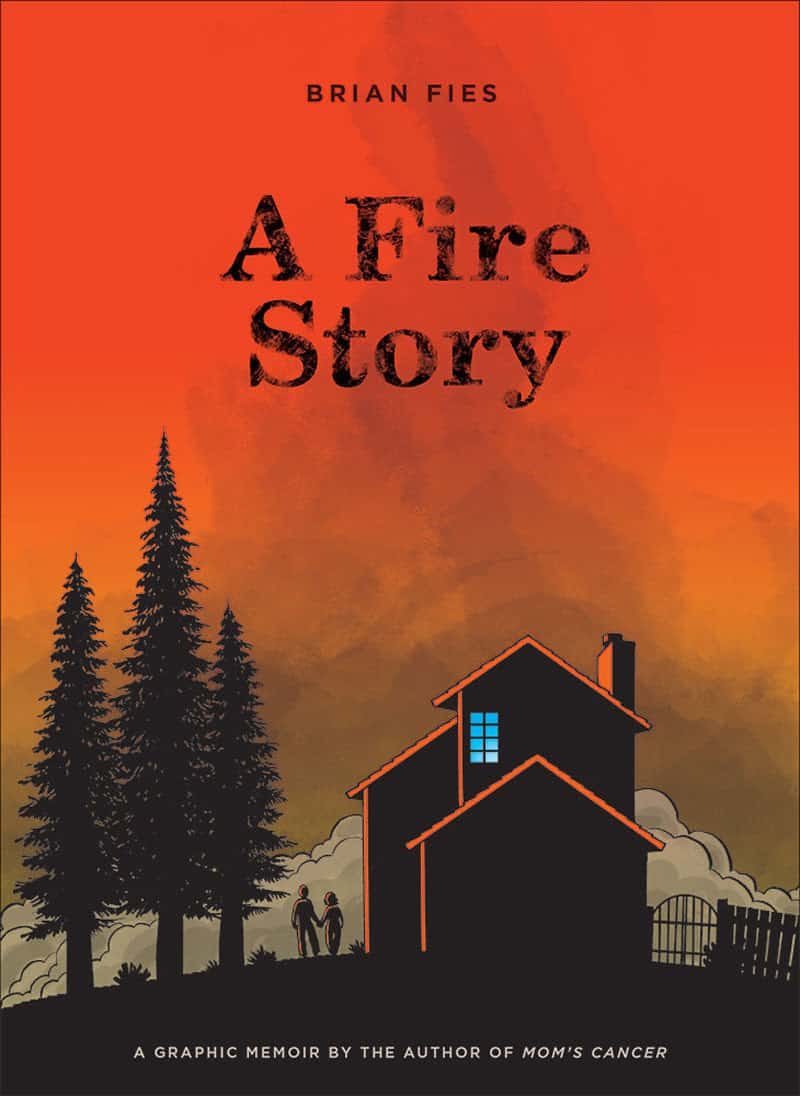 The Cartoon Art Museum is proud to present an evening with cartoonist Brian Fies on Saturday, March 30, 2019 at 7 PM as he discusses his new graphic novel A Fire Story: A Graphic Memoir, his firsthand account of the 2017 Northern California wildfires. A selection of Fies's original artwork from A Fire Story will be on display at the Cartoon Art Museum from March 15 through July 15, 2019.
Advance tickets for the Saturday, March 30 event are available through Guestlist: Fire Story Tickets
About A Fire Story
Early on the morning on Monday, October 9, 2017, wildfires burned through Northern California, resulting in 44 fatalities. In addition, 8,300 structures, including more than 6,200 homes, were destroyed. Author Brian Fies lost his house and every possession he and his wife had that didn't fit into the back of their car. In the days that followed, as the fires continued to destroy more and more homes in the area, Brian hastily pulled together a firsthand account of his fire story and posted it on his blog and on Facebook. The comic quickly went viral, picked up by CNN as well as local newspapers and TV stations. Millions of people were moved by Brian's honest, unflinching depiction of his experiences. San Francisco PBS TV station KQED adapted A Fire Story into a five-minute video, which won an Emmy Award in June 2018.
Just as Brian took his mother's cancer and transformed his processing of the experience into an award-winning graphic novel, Mom's Cancer, he is now taking his original 20-page webcomic and expanding it to include environmental insight and the fire stories of his neighbors and others in his community. A Fire Story is a real and honest first-hand account of the tragic wildfires that left homes destroyed, families broken, and a community that has become stronger as a result. It will resonate with anyone who has ever experienced the unique trauma that comes from a natural disaster.
About the Author
Brian Fies is a writer and cartoonist. His widely acclaimed first graphic novel, Mom's Cancer, won the Eisner Award for Best Digital Comic in 2005 (the first webcomic to win this award and the inspiration for the category), the 2007 Lulu Blooker Prize for Best Comic, the 2007 Harvey Award for Best New Talent, and the 2007 German Children's Literature Award, among other awards and recognition. He is also the author of the Eisner-nominated webcomic The Last Mechanical Monster and the acclaimed, award-winning graphic novel Whatever Happened to the World of Tomorrow? (winner of the American Astronautical Society's 2009 Eugene M. Emme Award for Best Young Adult Literature). Although Fies lost his home, he and his wife, Karen, are rebuilding in Santa Rosa, California.
Cartoon Art Museum
781 Beach Street, San Francisco, CA 94109
(415) 227-8666