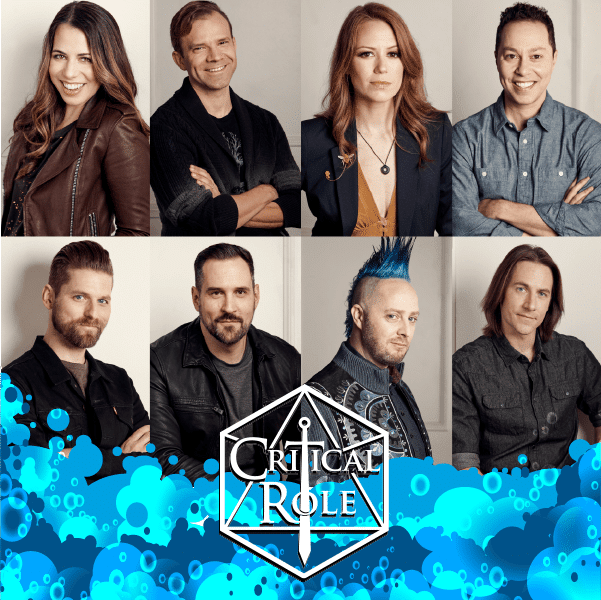 Press Release:
Critters rejoice! The cast of Critical Role is appearing at Denver Pop Culture Con 2019! Meet, get autographs, selfies, or professional photo ops with Laura Bailey, Brian W. Foster, Liam O'Brien, Marisha Ray, Taliesin Jaffe, Sam Riegel, Travis Willingham, and Matthew Mercer. They'll do their group panel (open to all congoers) on Saturday, but they're also appearing and doing lots of other things on Sunday, too. AND all of the cast will pre-sell autographs and photo ops beginning April 2. You'll find all of those links on our Critical Role landing page at the link…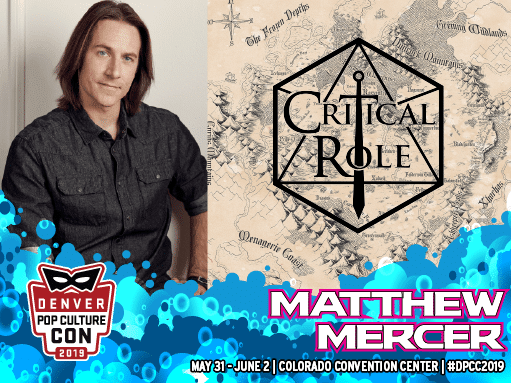 Matthew Mercer is a Los Angeles-based actor/voice actor known primarily for his roles in animation and video games. His extensive training in theater, improv, and being a life-long hardcore gamer helped prepare him for such projects and characters as McCree in Overwatch, the Witch-King of Angmar in Shadow of War, Mr. Freeze in Telltale's Batman: Enemy Within, Cor in Final Fantasy XV, Jack Cooper in Titanfall 2, Yusuke in Persona 5, Field Team Leader and Huntsman in Monster Hunter World, Luke Skywalker in Star Wars: Battlefront II, Hit in Dragon Ball Z Super, Deadshot in Injustice 2, MacCready in Fallout 4, Leon Kennedy in Resident Evil 6, Resident Evil: Damnation, and Resident Evil: Vendetta, Captain Levi in Attack on Titan, Aloth & Edér in Pillars of Eternity, Gangplank and Kindred (Wolf) in League of Legends, Rexxar, Nefarian, and Ragnaros in Hearthstone, Rehgar and Ragnaros in Heroes of the Storm, Cicero Gavar in Masquerada: Songs and Shadows, Bigfoot in Wabbit, Chance Sureshot and Recap Robot in The Regular Show, Abe the Trapper in Evolve, Tim Drake/Robin in Batman: Arkham Knight, Trafalgar Law in One Piece, Kanji Tatsumi in Persona 4 Arena Ultimax, Persona Q, and Persona 4: Dancing All Night, Prince Demande in Sailor Moon, Jotaro Kujo in JoJo's Bizarre Adventure: Stardust Crusaders, Kiritsugu Emiya in Fate/Zero, Alvin in Tales of Xillia & Tales of Xillia 2, Chrom in Fire Emblem: Awakening, Fire Emblem Heroes & Super Smash Bros, Ryoma, Shigure, and Azama in Fire Emblem Fates & Fire Emblem Heroes, and many other projects. Matthew is the Dungeon Master for Critical Role, where he runs a group of other accomplished voice actors through a campaign of Dungeons & Dragons live every Thursday. Follow Matthew on Twitter at @matthewmercer.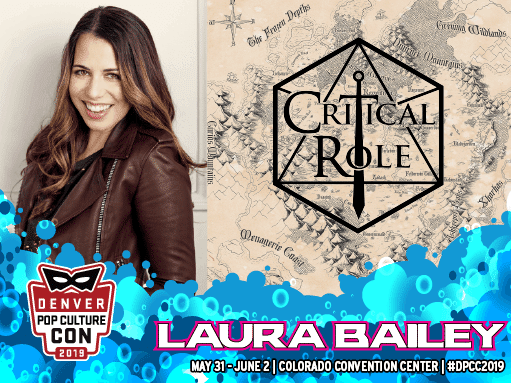 From super powered vigilante to spartan to ice wielding wizard, Laura Bailey has brought to life a plethora of fan favorite characters. Laura got her start in video games almost two decades ago and has since gone on to become one of the most prolific voice actresses in the industry today, having worked on hundreds of titles. In these past few years alone, you may know Laura as Nadine Ross in the Uncharted series, Spartan Vale in the Halo franchise, Jaina Poudmoore in World of Warcraft, Fetch in Sucker Punch's Infamous Series, Supergirl of Injustice 2, Eltariel from Middle Earth: Shadow of War, The Boss in Saints Row 3 and 4, Catwoman in Batman: The Telltale Series, Fiona in Telltale's Tales from the Borderlands, the yet unnamed mysterious powerhouse coming soon in Naughty Dog's The Last of Us II, and as revealed recently, Laura will be returning to take the helm in Gears of War 5 as Kait Diaz. In addition to video games, Laura lends her talents to several animated series, including Marvel's Avenger Assemble as the voice of Black Widow, Marvel's Spider-Man as Gwen Stacy, Constantine: City of Demons as The Night Nurse, as well as roles in Rick and Morty, Pickle and Peanut, Guardians of the Galaxy, RWBY, ThePowerPuff Girls, and others. While she lives in Los Angeles now, Laura started her voice career in Dallas, Texas at the popular anime studio Funimation. While there, Laura worked on many popular titles such as DragonBall Z, Fruits Basket, Shin-Chan, Full Metal Alchemist, Soul Eater, and Yu Yu Hakusho. Laura is thrilled to sit at the table with her friends every Thursday night on Critical Role. You can catch her exploits with Vox Machina as the half-elf ranger, Vex'ahlia – or with the Mighty Nein as Jester, the tricky tiefling cleric. Follow Laura on Twitter at @LauraBaileyVO.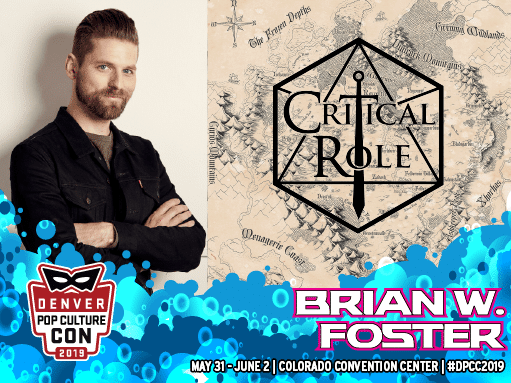 Brian W. Foster is a writer, poet, and singer/songwriter born in Long Beach, CA. He is the author of Blackened White, a series of short stories and poetry published in 2012. His first EP of original music titled Odessa was released the following year. In 2016, Brian was approached by the cast of Critical Role to create and host a companion after-show for their weekly Dungeons & Dragons game, streamed live on Twitch. The show, Talks Machina, launched in November of 2016 and continues airing every Tuesday night. Critical Role has yet to comment on whether they regret their decision, but all signs point to probably. Brian has appeared at several conventions and events across the country, moderating panels and Q&As for Critical Role, as well as rapper Logic. As of early 2018, Brian is presently working on his second book, a new music album, as well as a secretive project with Logic and Rick & Morty creator/writer Dan Harmon. He currently lives in Los Angeles with his girlfriend, actor and Critical Role cast member Ashley Johnson, and their two dogs, Henry and Sully. Follow Brian on Twitter at @brianwfoster.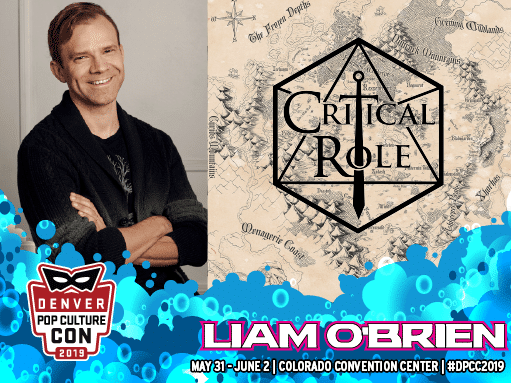 Liam O'Brien has spent the last 15 years working steadily on stage and in the game and animation industry. As an actor, he has worked on well over 400 video game and animation projects. Some of the more well known series he has lent his voice to include Star Wars Rebels, Transformers: Robots in Disguise, Avengers Assemble, Wolverine and the X-Men, Planet Hulk, Phineas & Ferb, The Regular Show, Sofia the First, GI Joe, Hulk and the Agents of Smash, Iron Man and Hulk: Heroes United, and Naruto. On the video game end, popular titles include Shadow of Mordor, World of Warcraft, The Last of Us, The Order: 1886, Titanfall, Wildstar, Elder Scrolls Online, Final Fantasy XIII, Asura's Wrath, Darksiders, Starcraft, Call of Duty, Resident Evil, and Dragon Age. In addition to his long list of acting roles, Liam has also spent an ample amount of time outside the booth, both as voice director and writer. The Last of Us, The Witness, Evolve, Shadow of Mordor, LEGO Dimensions, World of Warcraft, and Resident Evil 6 are some of the many projects he has directed on. You can also find him every Thursday on Critical Role, where a group of nerdy-ass voice actors play D&D for an audience of millions. You can catch his exploits with Vox Machina as the half-elf rogue, Vax'ildan — or with the Mighty Nein as Caleb Widogast, the human wizard. Follow Liam on Twitter at @VoiceOfOBrien.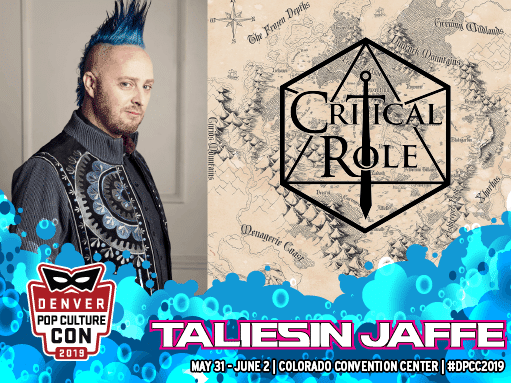 Taliesin Jaffe began his career as a child actor appearing in films such as Mr. Mom, 2010 and Explorers, and television series including The Facts of Life, St. Elsewhere, and She's the Sheriff. Since then he has worked as an ADR director for projects such as Hellsing, BECK, Romeo X Juliet, Street Fighter IV, and Ultimate Marvel vs. Capcom 3. He has also worked as a voice actor, lending his voice to characters such as Blanka in Street Fighter, Darion Mograine in World of Warcraft, Thancred in Final Fantasy XIV, and Basil Hawkins in One Piece to name just a few. Taliesin has recently played Ga'nar in Lords of War and The Flash in Injustice 2. Currently you can watch him Wednesdays on The Wednesday Club. You can also find him every Thursday on Critical Role, where a group of nerdy-ass voice actors play D&D for an audience of millions. You can catch his exploits with Vox Machina as the human gunslinger, Lord Percival Fredrickstein Von Musel Klossowski de Rolo III (also known as Percy) — or with the Mighty Nein as Mollymauk Tealeaf, the tiefling blood hunter and Caduceus Clay, the firbolg cleric. Follow Taliesin on Twitter at @executivegoth.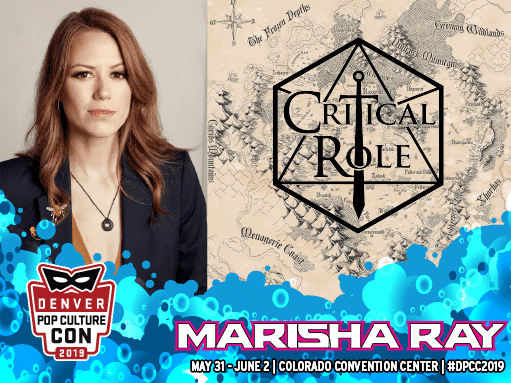 Marisha Ray is a voice actor, producer, and uber-nerd based out of Los Angeles. You can hear her in Persona 4 as Margaret; Legend of Heroes: Trails of Cold Steel as Laura Arseid; Star Wars: Battlefront as a Stormtrooper, Metal Gear:Survive as Miranda, and see her in Signal Boost (Host/Producer), Batgirl: Spoiled as Batgirl/ Stephanie Brown, and Walk of Shame (Not a Working Girl) just to name a few. Marisha got her start in theater on the east coast, working and training at companies such as the Actors Theatre of Louisville, American Academy of the Dramatic Arts, Point Park University Conservatory of Performing Arts, and the Governor's School for the Arts. She is also an avid gamer! At the age of three, she could beat anyone in a round of Mario Bros., including her father. She carries this love for gaming and geek culture into much of her hosting, comedy, and writing career. You can find her every Thursday on Critical Role, where a group of nerdy-ass voice actors play D&D for an audience of millions. You can catch her exploits with Vox Machina as the half-elf druid, Keyleth – or with the Mighty Nein as Beauregard, the human monk. Follow Marisha on Twitter at @Marisha_Ray.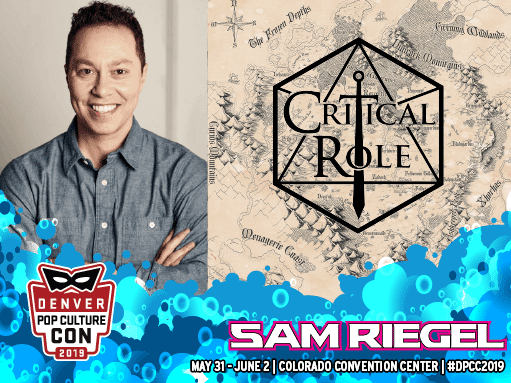 Sam Riegel is a veteran voice actor, writer and voice director of cartoons, video games and anime series. Notable animation roles include Donatello in the 2003 Teenage Mutant Ninja Turtles, Emperor Awesome on Wander Over Yonder, Shiro Emiya in Fate/Stay Night, Viral in Gurren Lagann, Mephisto in Blue Exorcist, and Metal Bat in One Punch Man. Video game characters include Peter Parker/Spiderman in The Amazing Spiderman games, Starscream in Transformers War for Cybertron & Fall of Cybertron, Teddie in the Persona series, Chris Haversam in Fallout New Vegas, Zed in Ratchet & Clank, roles in Last of Us, World of Final Fantasy, Uncharted 4, Shadow of Mordor, and everyone's favorite attorney, Phoenix Wright. Sam also serves as voice director for Disney's DuckTales, Sofia The First, Pickle & Peanut, Elena of Avalor, and Fancy Nancy, as well as Danger & Eggs for Amazon and Unikitty! for Cartoon Network. Sam occasionally co-hosts a drunken podcast with Liam O'Brien called All Work No Play. You can also find him every Thursday on Critical Role, where a group of nerdy-ass voice actors play D&D for an audience of millions. You can catch his exploits with Vox Machina as the gnome bard, Scanlan Shorthalt — or with the Mighty Nein as Nott the Brave, the goblin rogue. Follow Sam on Twitter @samriegel.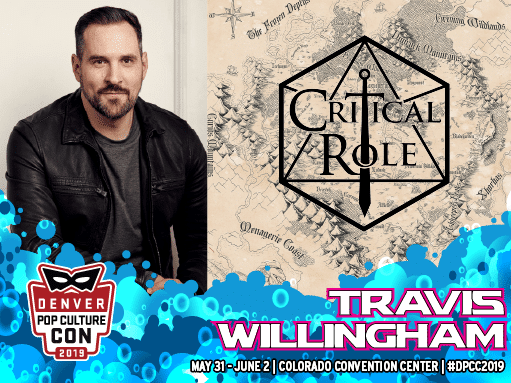 Travis Willingham has amassed over 200 roles in video games, original animation projects, and anime. He is most widely known in the world of anime as Roy Mustang in both Fullmetal Alchemist series. Other credits include One Piece, Naruto, Bleach, Tiger & Bunny, D.Gray-Man, Mushishi, Ouran Host Club. Since 2010, Travis has provided the voice of THOR in Marvel's hit original series Ultimate Spider-Man, Avengers Assemble, HULK and the Agents of SMASH, and Guardians of the Galaxy on Disney XD. You can also hear his singing voice as King Roland II in Disney Jr's series Sofia the First, and as Cannonbolt in Ben 10 and Knuckles the Echidna in SEGA's Sonic Boom on Cartoon Network. Other shows include Regular Show, Justice League Action, Scooby-Doo, The Legend of Korra, Star vs The Forces of Evil, Transformers: Robots in Disguise, and Phineas and Ferb. He has also starred in some of the biggest video game titles around, including Middle Earth: Shadow of War, Injustice 2, For Honor, Batman: The Telltale Series, Overwatch, Marvel vs. Capcom: Infinite, Halo 5: Guardians, FarCry 4, Middle Earth: Shadow of Mordor, Skyrim: Elder Scrolls, InFamous: Second Son, GTA V, Disney Infinity: Marvel Super Heroes, KNACK, Lego Batman 3: Beyond Gotham, The Last of Us, Ratchet & Clank, Fire Emblem: Awakening, Call of Duty: Black Ops 2, Halo 4, LEGO: Batman 2, Skylanders: Giants, Modern Warfare 3, Battlefield 3, Call of Duty: Black Ops I & II, Star Wars: The Old Republic, Transformers: Dark of the Moon/War for Cybertron/Fall of Cybertron, Catherine, Sonic the Hedgehog, and Street Fighter as Guile. His film work includes Secondhand Lions, Ray, Friday Night Lights, Prison A-Go-Go, The Guardian, and A Perfect Getaway. You can find him every Thursday on Critical Role, where a group of nerdy-ass voice actors play D&D for an audience of millions. You can catch his exploits with Vox Machina as the goliath barbarian, Grog Strongjaw – or with the Mighty Nein as Fjord, the half-orc warlock. Follow Travis on Twitter at @WillingBlam.
The ultimate pop culture celebration. Meet your favorite pop culture celebrities, authors and comic creators, attend over 800 hours of panels and workshops, check out amazing costume creations, and see what's new in the world of collectibles, books, film, gaming and more!
Denver Pop Culture Con is a program of the Colorado nonprofit Pop Culture Classroom, whose mission is to inspire a love of learning, to increase literacy, celebrate diversity and build community through pop culture education. The proceeds from this annual event benefit Pop Culture Classroom's overall educational endeavors. For tickets and further information, please go to the website: denverpopculturecon.com