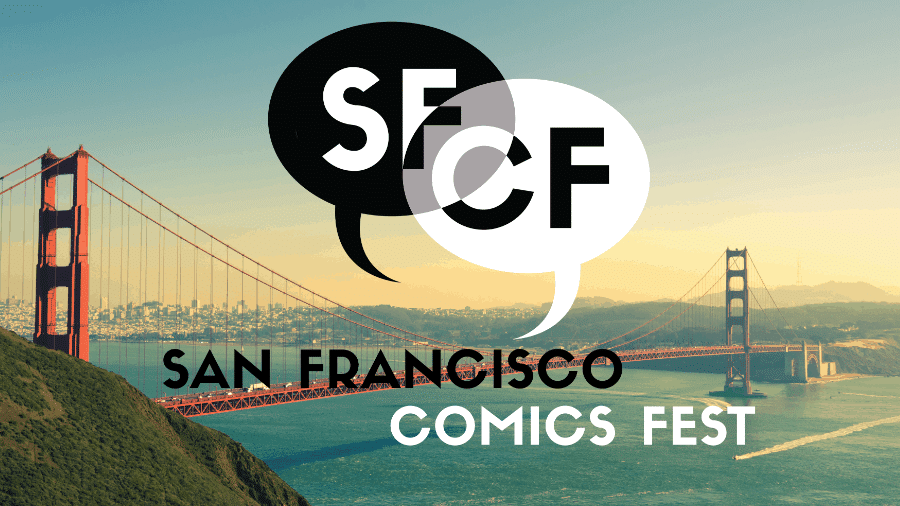 Press Release:
More than a week of events celebrating the Bay Area's thriving comics scene and its rich comics history during the third SF Comics Fest (SFComicsFest.com) that runs Friday, March 1st through Sunday, March 10th.
The Cartoon Art Museum has coordinated with institutions all over the Bay Area for the celebration including comic shops like Cape and Cowl, Crush Comics, and The Escapist, organizations like the Mission Art and Comics Expo and cultural institutions like the museum and the Will & Ann Eisner Foundation, events include setting goals to read graphic novels, the opportunity to meet famous comics creators, getting an in-depth look at San Francisco's comic scene from past to present, seeing innovations that will guide the future of comics, making your own comics under the direction of professional cartoonists and more!
Each year events take place at independent locations that coordinate events in San Francisco and the surrounding Bay Area. Scheduled events include but are not limited to:
Will Eisner (Read a Graphic Novel) Week, March 1-7th
READ A GRAPHIC NOVEL! At home, in school or just about anywhere, celebrate the "Father of the Graphic Novel" by reading any graphic novel of your choice this week and sharing your experience with others. We encourage you to stop by the reading room inside the Cartoon Art Museum while you check out one of our many exhibitions. Will Eisner Week is an Annual Celebration in March Promoting Comics, Graphic Novel Literacy, Free Speech, and the Legacy of Will Eisner. Find all kinds of events near you at willeisner.com!
Dame Darcy Signing and Reading, March 1st from 7pm -10pm
Musician, actress, cable TV star, fortune teller, dollmaker, and last but not least, cartoonist Dame Darcy, well known for her alternative comic MEAT CAKE, reads from and signs her new, autobiographic graphic novel, HI JAX & HI JINKS: Life's a Pitch and then You Live Forever. The event takes place at The Escapist Comic Bookstore, 3090 Claremont Ave., Berkeley, CA.
Cartoonist In Real Life: Svetlana Chmakova, March 3 from 1:00-2:30pm
The Cartoon Art Museum welcomes Svetlana Chmakova, creator of the popular youth graphic novels Awkward, Brave, and the recently released Crush, on Sunday, March 3, 2019, from 1 to 2:30 p.m. as part of its visiting artist program Cartoonist IRL (In Real Life). Join us in our galleries for a short Q&A with Svetlana followed by a book signing in the Bil Keane Family Lobby. Regular museum admission required for this special event. Book signing attendance is free.
Captain Marvel Movie & Debrief, March 7th, 7pm Movie, 9:30pm Debrief
Captain Marvel is here! Come join us at Crush Comics, 2869 Castro Valley Blvd. in Castro Valley, CA on Thursday, March 8th for a viewing and discussion of Marvel's new movie Captain Marvel at the Chabot Theater next door! The movie starts at 7:00pm and afterwards we will head back to the shop to discuss the film and hangout. Snacks and lively discussion will be provided from 9:30pm to 12:00am (or longer if we're still having fun). Get your tickets early at the following link: http://www.cineluxtheatres.com/location/1036/CineLux-Chabot-Cinema-Showtimes/2019-03-07 We hope you can join us!
Drink and Draw at El Rio for Mission Art & Comic Expo, March 7th, 7pm – 11:00pm
The Mission Art and Comic Expo invites you to a Drink and Draw Fundraiser at El Rio, 3158 Mission St., San Francisco, CA. Enjoy drinks and meet artists in a casual drawing setting. Collaborate with other artists in drawing games facilitated by the MACE organizers. Help fund the first Mission Art and Comic Expo, and keep San Francisco's artist community thriving.
The Spirit of Mini-Comics Challenge, March 9 from 11am to 5pm
The Cartoon Art Museum invites comic-makers of all levels to come join in a mini-comics challenge. Come celebrate Will Eisner Week by helping make 30 or more comics in one day! Organizer Brian Kolm and other cartoonists will be on hand to help you complete your very own mini-comic to take home. Present your completed mini-comic to be photographed and get a reward from the Cartoon Art Museum. Demonstrations, creative coaching and materials provided. This event is free and open to the public.
Mister Miracle BYOB Book Club, March 9th from 6pm to 7:30pm
The Cape and Cowl (1601 Clay St., Oakland, CA) Book Club is back! Woot! There is seriously no better book we could possibly choose to resurrect our book club. We love Mister Miracle SO MUCH and we want to share it! We NEED to talk to you all about it so please, please come geek out with us! We'll have some snacks and some beverages, but you may want to BYOB if you're picky.
Events are added continuously as they are approved. Visit sfcomicsfest.com for a complete list of events!