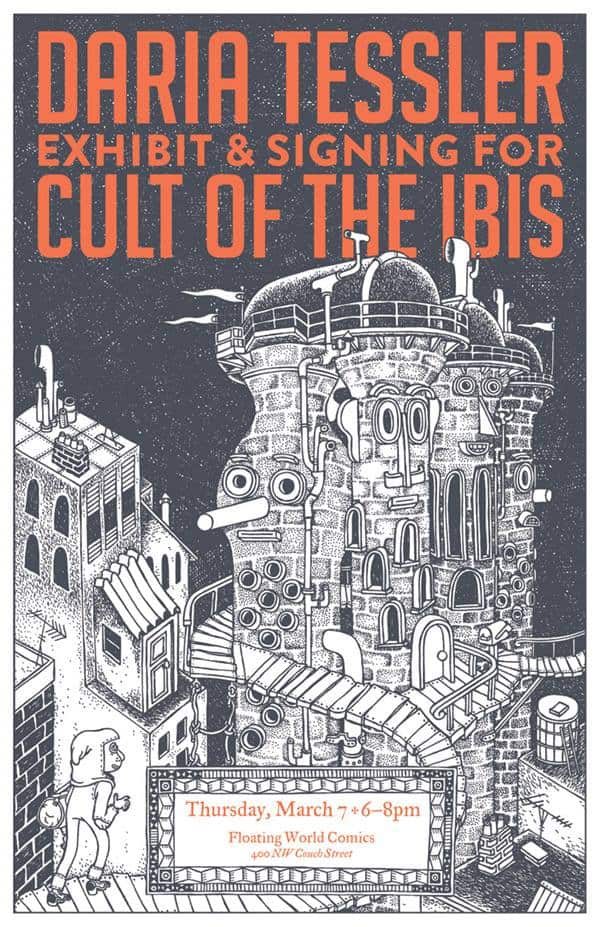 Daria Tessler appears at Floating World Comics on Thursday, March 7, 2019 from 6 PM – 8 PM for the Cult of the Ibis release party and art exhibit.
This exquisite, mostly-silent graphic novel takes place in a fantasy cityscape loosely inspired by German Expressionist film. Cult of the Ibis tells the story of an occultist getaway driver who, after escaping with the loot from a bank robbery gone wrong, orders a build-your-own homunculus kit and goes on the lam. Steeped in architecture and atmosphere, Tessler's vividly intricate cartooning fuels this strange and gripping yarn, which is packaged in a gorgeous hardcover design.
Daria Tessler is a cartoonist and printmaker based in Portland, OR. Her books include The Cult of the Ibis, Accursed, and Music of Changes. She also creates silkscreen prints, stationary and more via her website animalsleepstories.com.
Floating World Comics
400 NW Couch Street, Portland, OR 97209
(503) 241-0227