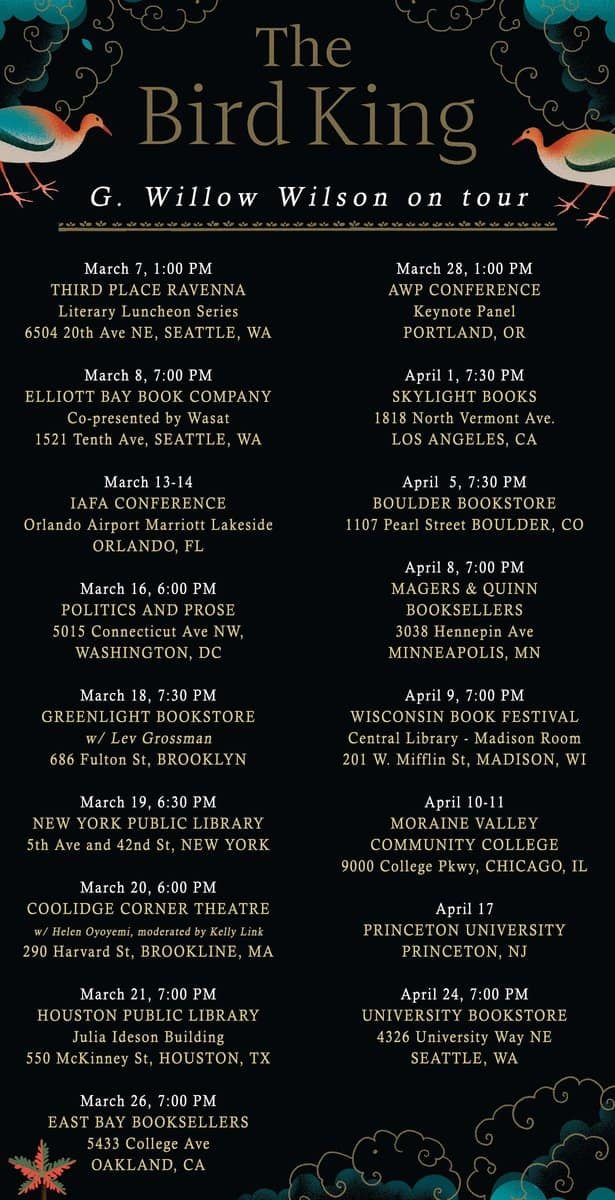 Writer G. Willow Wilson (Invisible Kingdom, Wonder Woman, Ms. Marvel, A-Force) is going on tour to present and sign her new novel THE BIRD KING.
ABOUT THE BOOK:
Set in 1491 during the reign of the last sultanate in the Iberian peninsula, The Bird King is the story of Fatima, the only remaining Circassian concubine to the sultan, and her dearest friend Hassan, the palace mapmaker. Hassan has a secret—he can make maps of places he's never seen and bend the shape of reality with his pen and paper. His magical gift has proven useful to the sultan's armies in wartime and entertained a bored Fatima who has never stepped foot outside the palace walls.
When a party representing the newly formed Spanish monarchy arrives to negotiate the terms of the sultan's surrender, Fatima befriends one of the women, little realizing that her new friend Luz represents the Inquisition, and will see Hassan's gift as sorcery, and a threat to Christian Spanish rule. With everything on the line, what will Fatima risk to save Hassan, and taste the freedom she has never known?
Fatima and Hassan traverse Iberia to the port, helped along the way by a jinn who has taken a liking to them—Vikram the Vampire, who readers may remember from Alif the Unseen. Pursued all the while by Luz, who somehow always seems to know where they will end up, they narrowly escape from her generals by commandeering a ship, and accidentally also the snoozing Breton monk belowdecks. Though they are unsure whether to trust him, because he is a member of the very same faith they are running from, they nevertheless set about learning from him how to crew a ship. And as it becomes clearer both that there is no place on the mainland that they will be safe, and that the three of them are destined to stay together, they set out to do something they never thought possible—to find the mysterious, possibly mythic island of The Bird King, whose shifting boundaries will hopefully keep them safe.
An epic adventure to find safety in a mythical realm, The Bird King challenges us to consider what true love is and the price of freedom at a time when the West and the Muslim world were not yet separate.
Third Place Books Ravenna
Literary Luncheon
6504 20th Ave NE, Seattle, WA
*ticketed event
* * * * * * * * * * * * * * * * * * * * * * * * * * *
Elliott Bay Book Co.
Co-presented by Wasat
1521 Tenth Ave, Seattle, WA
* * * * * * * * * * * * * * * * * * * * * * * * * * *
WEDNESDAY MARCH 13th @ 1:00 PM
IAFA CONFERENCE
Opening Panel
Marrriott Orlando Airport, Orlando, FL
* * * * * * * * * * * * * * * * * * * * * * * * * * *
Politics & Prose
5015 Connecticut Ave, NW, Washington, DC
* * * * * * * * * * * * * * * * * * * * * * * * * * *
Greenlight Bookstore
With Lev Grossman (The Magicians) 
Fulton Street, Brooklyn, NY
* * * * * * * * * * * * * * * * * * * * * * * * * * *
New York Public Library
42nd Street Main Branch, New York, NY
* * * * * * * * * * * * * * * * * * * * * * * * * * *
WEDNESDAY MARCH 20th @ 6:00 PM
Brookline Booksmith
With Helen Oyoyemi, moderated by Kelly Link
Coolidge Corner Theatre
290 Harvard Street, Brookline, MA
Click here for tickets
* * * * * * * * * * * * * * * * * * * * * * * * * * *
Houston Public Library
Julia Ideson Building
550 McKinney Street, Houston, TX
* * * * * * * * * * * * * * * * * * * * * * * * * * *
East Bay Booksellers
5433 College Avenue, Oakland, CA
* * * * * * * * * * * * * * * * * * * * * * * * * * *
THURSDAY MARCH 28th @ 1:00 PM
AWP Conference
Keynote Panel
Portland, OR
* * * * * * * * * * * * * * * * * * * * * * * * * * *
MONDAY APRIL 1st @ 7:30 PM
Skylight Books
1818 North Vermont Avenue, Los Angeles, CA
* * * * * * * * * * * * * * * * * * * * * * * * * * *
Boulder Book Store
1107 Pearl Street, Boulder, CO
* * * * * * * * * * * * * * * * * * * * * * * * * * *
Magers & Quinn Booksellers
3038 Hennepin Ave, Minneapolis, MN
* * * * * * * * * * * * * * * * * * * * * * * * * * *
Wisconsin Book Festival
Madison Public Library – Madison Room
201 West Mifflin Street, Madison, WI
* * * * * * * * * * * * * * * * * * * * * * * * * * *
APRIL 10-11
Moraine Valley Community College
Chicago, IL
* * * * * * * * * * * * * * * * * * * * * * * * * * *
WEDNESDAY APRIL 17th
Princeton University
Princeton, NJ
* * * * * * * * * * * * * * * * * * * * * * * * * * *
WEDNESDAY APRIL 24th @ 7:00 PM
University Bookstore
4326 University Way NE, Seattle, WA