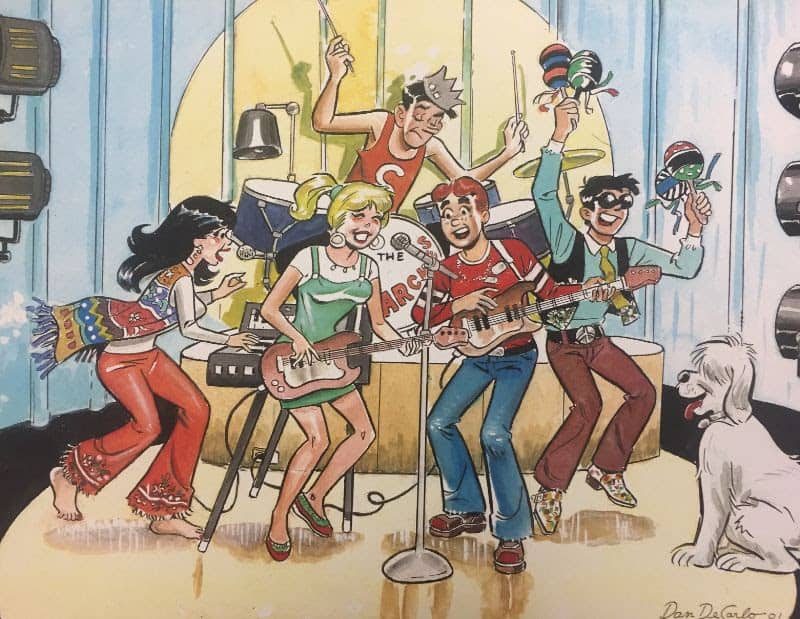 Press Release:
Ohio State's Billy Ireland Cartoon Library & Museum is delighted to announce the acquisition of the Dan DeCarlo Collection, which includes dozens of complete original Archie Comics stories from Betty and Me, Betty & Veronica, Veronica, Sabrina the Teenage Witch, Josie and the Pussycats, Cheryl Blossom, and Jughead among others. Most of the stories were printed in the 1980s and early 1990s, with some having been drawn by his twin sons Dan and James. The collection also contains original drawings of various Archie characters as well as some of DeCarlo's early pin-up work from Humorama magazine.
"I would like to thank Mr. DeCarlo's granddaughters Jessica and Christie DeCarlo for donating this wonderful collection, as well as Bill Morrison, who was instrumental in preserving the materials and arranging for the collection to come to the Billy Ireland Cartoon Library & Museum," said Jenny Robb, head curator.  "These iconic characters are an important part of our popular culture history and continue to resonate with audiences today."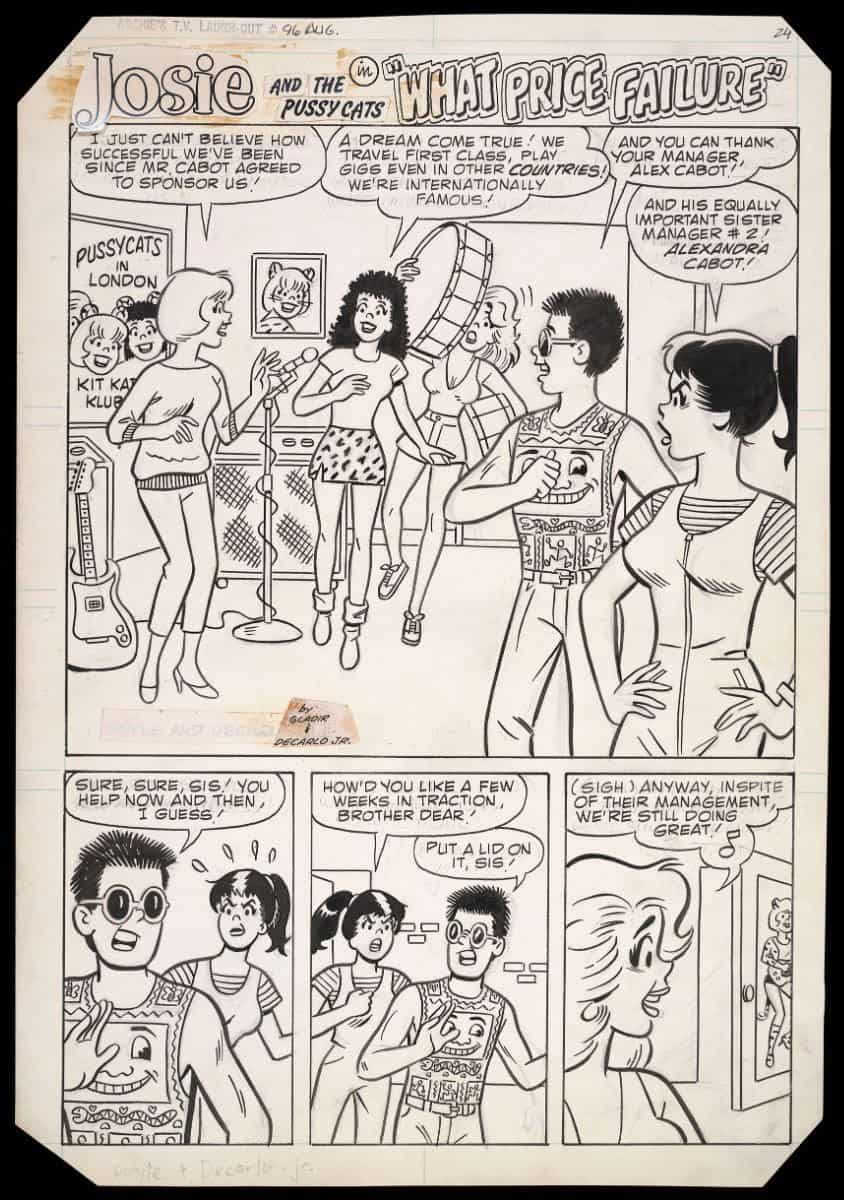 Dan DeCarlo was born in 1919 in New Rochelle, NY. While attending The Art Students League of New York with hopes of pursuing a career as an illustrator, he was drafted to serve in World War II. He spent part of his time in the service painting company mascots on the nose of planes as well as working on a weekly military comic strip. After his time abroad, he met his wife Josie Dumont, and began working freelance for a number of companies including Humorama magazines as well as several comic books with Stan Lee. When he was later hired on to work on Archie, he was allowed to adapt the series to his style. He established Betty's iconic ponytail and is largely credited with the "house style" of the Archie characters that persisted until the end of the original run in 2016. DeCarlo is also the creator of Josie and the Pussycats, and co-creator of Sabrina the Teenage Witch and Cheryl Blossom.
The Josie series began as She's Josie before being renamed Josie, and finally landing on Josie and the Pussycats in 1969. Valerie, one of the members of the Pussycats, became the first African American character in Archie comics history (predating Chuck Clayton and his father by a couple of years), as well as the first African American character featured in Saturday Morning cartoons.
Not only did DeCarlo name Josie after his wife, but her iconic hairstyle from the 1960s and her cat suit costume for the band came from Josie DeCarlo as well. DeCarlo's twin sons also worked for the company in the 1980s but both preceded their father in death; Dan Jr. Died of cancer in 1990, and James died from complications from a stroke in 1991, giving a special importance to pieces donated to The Billy Ireland Cartoon Library & Museum labeled "Art by DeCarlo Sr. and Sons."
Bill Morrison, former Simpsons editor and cartoonist, said of DeCarlo's legacy, "Until recently, Dan DeCarlo was one of the most overlooked and underrated cartoonists of the 20th Century. I wrote a book on Dan's art in 2006, and since then I have seen his original art and the comics he drew skyrocket in value. Today his work is some of the most sought-after art on the market. I'm proud and pleased to have been able to help shepherd the DeCarlo family's collection to its home at the Billy Ireland Museum where the world can experience its brilliance."
This collection provides an excellent representation of the trajectory of Dan DeCarlo's career, and also highlights how his clean line style meshed well with the changing fashions in contemporary culture.