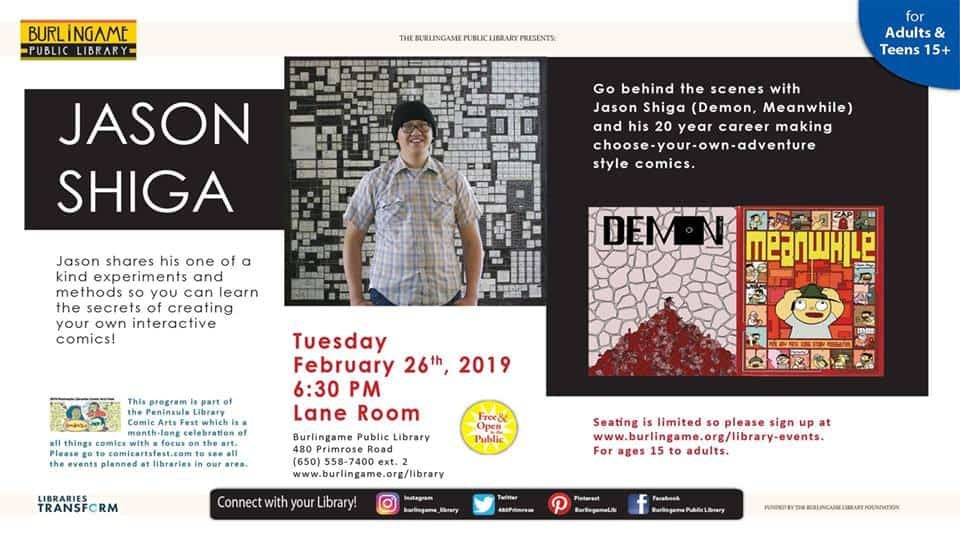 Cartoonist Jason Shiga (Demon, Meanwhile) appears at the Burlingame Public Library on Tuesday, February 26, 2019 at 6:30 PM to lead a comics workshop for students 15+. Register here…
Go behind the scenes with Jason Shiga and his 20 year career making choose-your-own-adventure style comics. Jason shares his one of a kind experiments and methods so you can learn the secrets of creating your own interactive comics! For ages 15+ (the plus means adults! We know there are plenty of adult comic book fans in our community and Jason can talk about how to make a living being a comic book author and artist).
Jason Shiga was born and raised in Oakland, California. He is the author of Meanwhile, Empire State, Fleep, Bookhunter, Demon, and over twenty other comic books and graphic novels. He is also the creator of the world's second largest interactive comic. His comics have a geeky side and often feature exciting uses of mathematics and unusual structural forms. Jason currently lives in France after being accepted into an artist in residence program.
This program is part of the Peninsula Library Comic Arts Fest which is a month-long celebration of all things comics with a focus on the art. Please go to comicartsfest.com to see all the events planned at libraries in our area.
Burlingame Public Library
480 Primrose Rd, Burlingame, CA 94010
(650) 558-7400