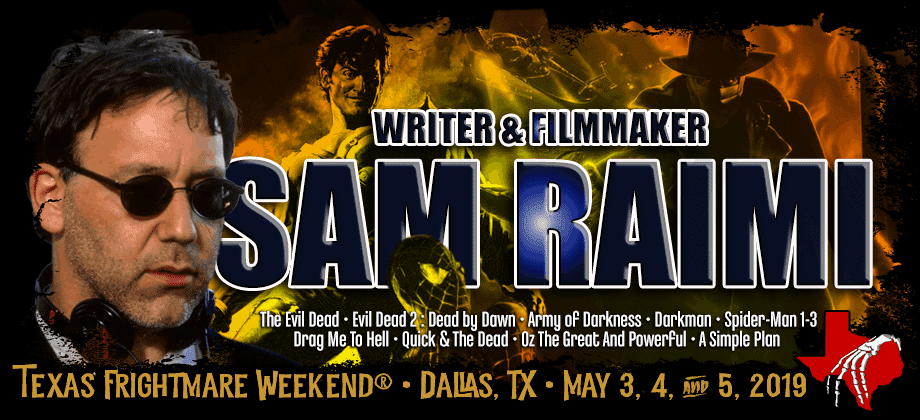 Press Release:
Texas Frightmare Weekend is excited to welcome prolific director/producer/writer/actor Sam Raimi to Dallas on May 3-5, 2019!
Sam Raimi first came to the attention of film fans with the horror film saga, The Evil Dead. From his childhood, Raimi was a fan of the cinema and, before he was ten-years-old, he was out making movies with an 8mm camera. He was a devoted fan of The Three Stooges, so much of Raimi's film work in his teens was slapstick comedy based around what he had observed from "Stooges" movies.
As a director, Raimi's films include Evil Dead, Evil Dead II, Army of Darkness, Darkman, The Quick and the Dead, A Simple Plan, For Love of the Game, and The Gift. In 2002, Raimi was given a real opportunity to demonstrate his dynamic visual style with the big-budget film adaptation of the Stan Lee comic book superhero, Spider-Man. The movie was a runaway success at the box office. He also returned for the sequels, Spider-Man 2 and Spider-Man 3. Raimi returned to horror with Drag Me to Hell in 2009 and in 2013 he directed the Walt Disney film Oz the Great and Powerful.
As a producer, Raimi is responsible for multiple hit TV and film projects including Hercules: The Legendary Journeys, Jack of All Trades, Xena: Warrior Princess, The Grudge, Boogeyman, 30 Days of Night, Don't Breathe, and Ash vs Evil Dead.
The Southwest's PREMIER Horror Convention! Now celebrating our 14th year! Join us May 3-5, 2019 to meet your favorite horror ICONS. Featuring film screenings, twisted vendors, exclusive parties, celebrity Q&A's and MORE! For tickets and more information please go to the website: www.texasfrightmareweekend.com