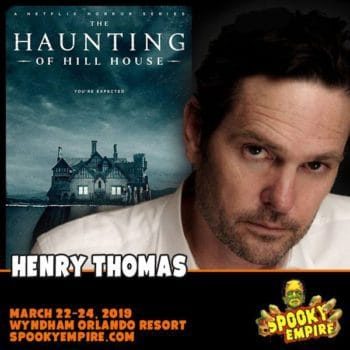 Spooky Empire's new guest announcement is hauntingly familiar as a famous child actor, but most recently he stars in a hit Netflix series we know you've all been talking about.
HENRY THOMAS stars in the latest Netflix Horror Series "The Haunting of Hill House" as the young "Hugh Crain".
HENRY is appearing all weekend at Spooky Empire, March 22-24, 2019 in Orlando, FL.
As a child actor, HENRY THOMAS starred as "Elliott" in the classic Steven Spielberg film "E.T.". He went on to appear in other hit films and TV series such as "Cloak & Dagger", "The Quest", "Psycho IV:The Beginning", "Fire in the Sky", "Legends of the Fall", "Suicide Kings", "Gangs of New York", "Ouija: Origin of Evil", "Betrayal" (series), "Better Things", and many more!
Meet HENRY THOMAS all weekend at Spooky Empire at the Wyndham Orlando Resort. Get your tickets and reserve your room today at spookyempire.com, check out our all new website!