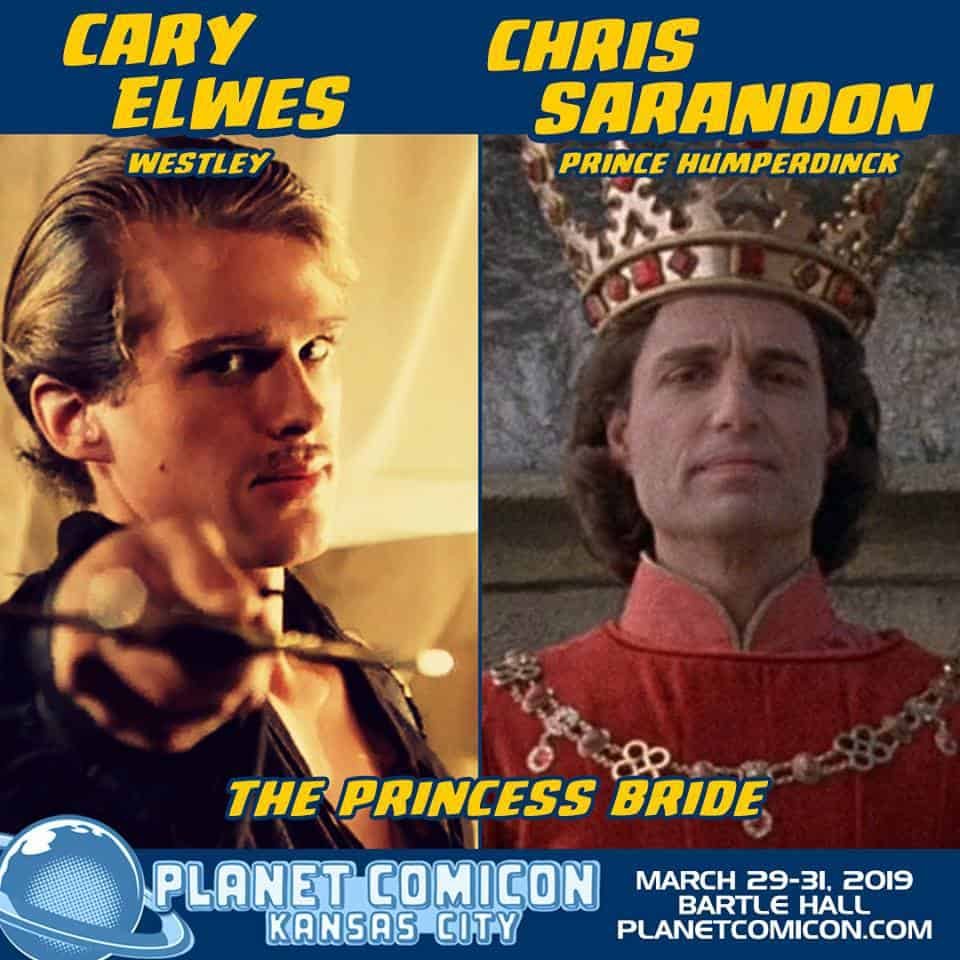 Press Release:
Planet Comicon couldn't be more excited to be welcoming both Cary Elwes and Chris Sarandon to our 20th anniversary event in March. Both are extraordinarily versatile actors and arguably best known for their respective roles of Westley and Prince Humperdinck in the beloved classic The Princess Bride.
Elwes is also known for his roles in the Academy Award-winning films Glory, Days of Thunder, and Bram Stoker's Dracula, box-office hits Hot Shots!, Twister, Liar Liar, and Saw, and the cult classic Robin Hood: Men In Tights. He will also be joining the cast of Stranger Things for the hit show's third season, set to debut in 2019.

Sarandon was the voice of Jack Skellington in The Nightmare Before Christmas, the vampire Jerry Dandridge in Fright Night and Detective Mike Norris in the first entry of the Child's Play series. He has also made appearances in Star Trek: Deep Space Nine, Charmed and most recently on the Netflix hit series Orange Is the New Black.
SPECIAL RATES: We're offering a very special discount offer to all teachers, librarians, active duty military and first responders (fire, police, EMTs): 10% OFF ALL PLANETCOMICON PASSES AND MEMBERSHIPS! For additional info, visit our online ticket page and click on "Discounted Membership" beneath "Event Information" on the left side of the page.
Celebrity Guests
Dean Cain (Lois & Clark: The New Adventures of Superman) – Fri./Sat. only
Tom Welling (Smallville, Lucifer)
Michael Rosenbaum (Smallville, Guardians of the Galaxy Vol. 2) – Sat./Sun. only
James and Oliver Phelps (Harry Potter Series)
Bonnie Wright (Harry Potter Series)
Tara Strong (Teen Titans Go!, Powerpuff Girls)
John Wesley Shipp (The Flash)
Creator Guests
Kevin Eastman (Teenage Mutant Ninja Turtles)
Doug Mahnke (Detective Comics, Superman, Justice League)
Jason Aaron (Star Wars, Thor)
Chris Claremont (Uncanny X-Men)
Amanda Conner (Harley Quinn, Justice League of America)
Jimmy Palmiotti (Harley Quinn, Painkiller Jane)
CW Cooke (Solitary, Stillwater)
Phil Hester (Batman Beyond, Shipwreck)
Megan Levens (Buffy the Vampire Slayer, Star Trek)
Ant Lucia (DC Bombshells)
Ande Parks (Batman Beyond, Daredevil, Ant-Man)
Cosplayer Guests
Kamui Cosplay (Internationally acclaimed costume designer and author) – Sat./Sun. only
For more information about the 2019 show, event photos, interviews and more, "Like" Planet Comicon on Facebook and follow @PlanetComicon on Twitter. Planet Comicon Kansas City is always available online at www.planetcomicon.com.