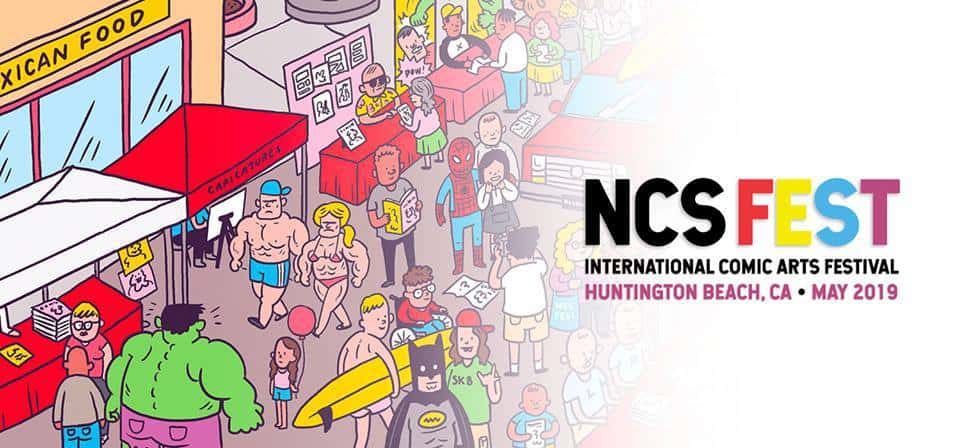 Press Release:
The National Cartoonists Society is delighted to announce that it has chosen the city of Huntington Beach, California, to host the inaugural NCSFest, a celebration of comics and cartoon art from all over the world. Based on the comic art festivals that are hugely popular in Europe, the festival will be held over the weekend of May 17-19, 2019.
Hundreds of the world's most celebrated creators are expected to attend the three-day event, participating in seminars, exhibitions, workshops, panel discussions and signing sessions, the vast majority of which will be free to the public. Downtown Huntington Beach will be the setting, with all events staged beachside, on the iconic pier, at the city's Arts Center and library and in local hotels and businesses, all within easy walking distance.
NCSFest is shaping up to be the biggest FREE comic arts festival in North America. Hundreds of superstar comics creators are coming in from all over the world and among the guests already confirmed are:
DANIEL CLOWES ("Ghost World")
GILBERT & JAIME HERNANDEZ ("Love and Rockets")
PATRICK McDONNELL ("Mutts")
PÉNÉLOPE BAGIEU ("Brazen") 

SEAN PHILLIPS & ED BRUBAKER ("Criminal" "Fade Out")

ANN TELNAES (Pulitzer-winning editorial cartoonist)

TOM RICHMOND (MAD Magazine)

BABS TARR ("Motor Crush")
DANA CLAIRE SIMPSON ("Phoebe and Her Unicorn")
LEWIS TRONDHEIM ("A.L.I.E.E.E.N.")
LUKE MCGARRY 

(MAD Magazine) 

and many more!
There will be major art exhibitions, seminars, cartooning classes and much, much more! NCSFest's Artists Alley will have its own unique twist – we'll be taking our artists outdoors onto Main Street, Huntington Beach for the weekend! Just steps from the iconic pier, Main Street will be closed to traffic as the city celebrates all things comics for the first time. We'll provide each artist with a secure 10×10′ Gazebo, table, chairs and power … all you need to bring is your talent and art!
Artists Alley and the Marketplace will be open all day Saturday and Sunday and we anticipate that many, many thousands of people will visit! It's a great way to promote your work and products, meet and greet the public and sell your wares! Participating artists will have access to a nearby hospitality suite and will be invited to the NCSFest Farewell Party on Sunday night.
Artists Alley fees are $200 per table for non-NCS members and $100 for NCS members for the entire weekend.
Apply online at ncsfest.com or email info@ncsfest.com for more details.
Please note that we need your reservation by Thursday, January 31, 2019. We will confirm your table allocation in February 2019.