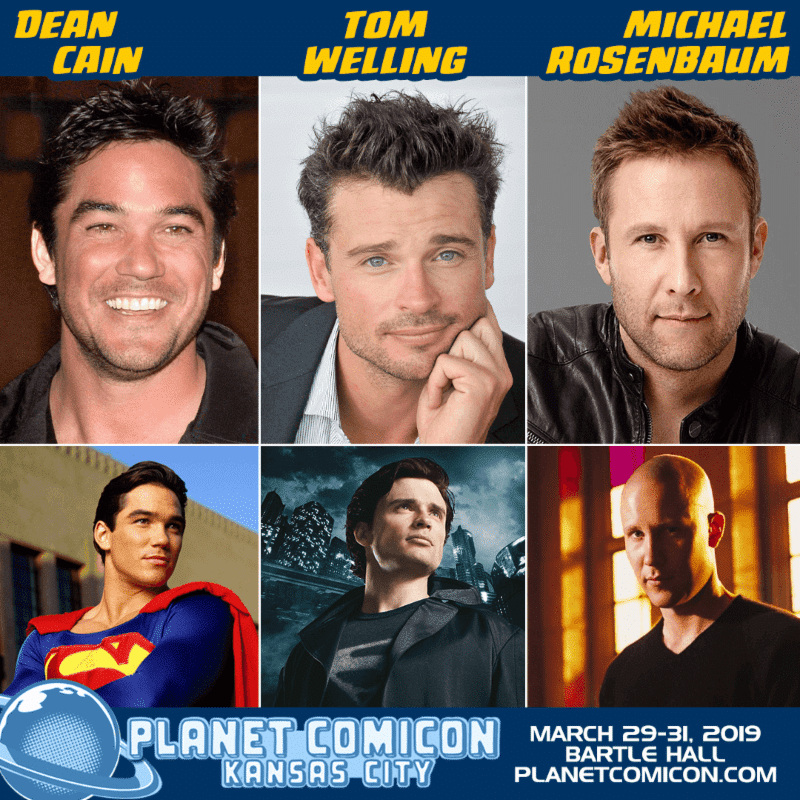 Press Release:
Planet Comicon Kansas City, the largest and longest-running comic book convention and pop culture event in the region, is excited to share another round of celebrity guest announcements for its 20th anniversary show taking place March 29 – 31 at Bartle Hall. From superheroes and villains to professional wrestlers, dozens of celebrity guests from a wide variety of entertainment genres will make appearances at Planet Comicon Kansas City in 2019.
Dean Cain, best known for his role as Clark Kent/Superman in the TV series Lois & Clark: The New Adventures of Superman, will be one of two Clark Kent celebrity guests at this year's event. Dean will be joined by another familiar face in television, Tom Welling, who played Clark Kent in the hit drama show Smallville. More recently Welling starred in the fantasy comedy-drama Lucifer this past year.
Joining Welling is his Smallville nemesis, Michael Rosenbaum, who starred as Lex Luthor in the smash hit, a role that TV Guide included in their list of "Top 60 Nastiest Villains of All Time". Rosenbaum also recently starred in Guardians of the Galaxy Vol. 2 along with voicing The Flash on the animated Justice League.
Cain will be appearing at Planet Comicon Kansas City on Friday and Saturday only, while Rosenbaum will be there Saturday and Sunday only. Tom Welling will be appearing all three days.
Cain, Welling, and Rosenbaum are just a few of the celebrity guests that the pop culture extravaganza has in store for its 20th anniversary celebration. Planet Comicon Kansas City is continuously announcing celebrity guests and comic creators on its social media channels leading up to the event in March. A full list of guests that have been announced to date is included below.
Celebrity Guests
James and Oliver Phelps (Harry Potter Series)
Bonnie Wright (Harry Potter Series)
Tara Strong (Teen Titans Go!, Powerpuff Girls)
Creator Guests
Jason Aaron (Star Wars, Thor)
Chris Claremont (Uncanny X-Men)
Amanda Conner (Harley Quinn, Justice League of America)
Jimmy Palmiotti (Harley Quinn, Painkiller Jane)
CW Cooke (Solitary, Stillwater)
Phil Hester (Batman Beyond, Shipwreck)
Megan Levens (Buffy the Vampire Slayer, Star Trek)
Ant Lucia (DC Bombshells)
Ande Parks (Batman Beyond, Daredevil, Ant-Man)
For more information about the 2019 show, event photos, interviews and more, "Like" Planet Comicon on Facebook and follow @PlanetComicon on Twitter. Planet Comicon Kansas City is always available online at www.planetcomicon.com.