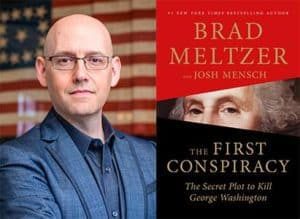 Author Brad Meltzer (Justice League of America, Identity Crisis, Green Arrow) appears at the Atlanta History Center on Friday, January 11, 2019 at 7 PM.
In 1776, an elite group of soldiers were handpicked to serve as George Washington's bodyguards. Washington trusted them; relied on them. But unbeknownst to Washington, some of them were part of a treasonous plan. In the months leading up to the Revolutionary War, these traitorous soldiers, along with the Governor of New York, William Tryon, and Mayor David Mathews, launched a deadly plot against the most important member of the military: George Washington himself.
This is the story of the secret plot and how it was revealed. It is a story of leaders, liars, counterfeiters, and jailhouse confessors. It also shows just how hard the battle was for George Washington and how close America was to losing the Revolutionary War.
In this historical page-turner, New York Times bestselling author Brad Meltzer teams up with American history writer and documentary television producer, Josh Mensch to unravel the shocking true story behind what has previously been a footnote in the pages of history. Drawing on extensive research, Meltzer and Mensch capture in riveting detail how George Washington not only defeated the most powerful military force in the world, but also uncovered the secret plot against him in the tumultuous days leading up to July 4, 1776.
Brad Meltzer is the #1 New York Times bestselling author of The Inner Circle, The Book of Fate, and nine other bestselling thrillers including The Tenth Justice, The First Counsel, The Millionaires, and The President's Shadow. In addition to his fiction, Brad is one of the only authors to ever have books on the bestseller list for Non-Fiction (History Decoded), Advice (Heroes for My Son and Heroes for My Daughter), Children's Books (I Am Amelia Earhart and I Am Abraham Lincoln) and even comic books (Justice League of America), for which he won the prestigious Eisner Award. He is also the host of Brad Meltzer's Lost History on H2 and Brad Meltzer's Decoded on the History Channel.
Tickets are $40 for general public and $35 for members. Each ticket includes a copy of The First Conspiracy.
Atlanta History Center
130 W Paces Ferry Rd NW, Atlanta, GA 30305
404-814-4000