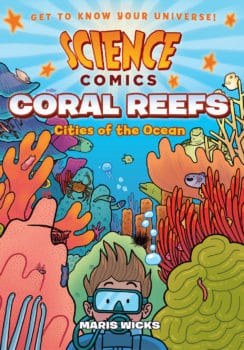 Cartoonist Maris Wicks appears at Friendly Neighborhood Comics on
Saturday, November 17, 2018 from 11 AM – 1 PM.
Maris Wicks is a writer and illustrator of science comics, as well as a self-proclaimed gigantic nerd. She has created comics for First Second Books, New England Aquarium and Woods Hole Oceanographic Institution, as well as Spongebob Comics, Marvel Comics, and DC Comics. Her graphic novel, Human Body Theater (2015), is a 240-page rollicking romp through the major systems of the human body (told in comics format, of course). Her latest book is Coral Reefs (2016), available at FNC.
Most recently, she was in Antarctica as a part of the USAP Artists & Writers grant, working on a graphic novel about life and science in Antarctica.
Friendly Neighborhood Comics
191 Mechanic Street (Route 140), Bellingham, MA 02019
508-966-2275