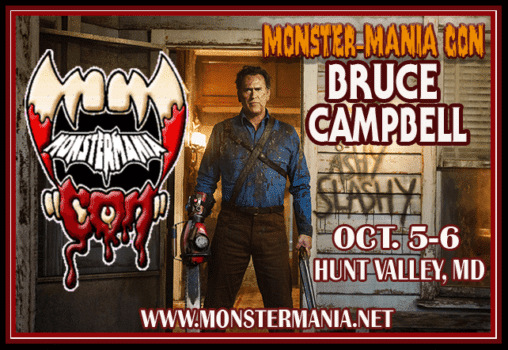 We are VERY excited to announce that horror superstar BRUCE CAMPBELL will be making his FIRST MONSTER-MANIA CON MARYLAND appearance at MONSTER-MANIA CON 44 the weekend of OCTOBER 4-6, 2019 in HUNT VALLEY, MD! BRUCE will be appearing both SATURDAY AND SUNDAY!
BRUCE of course needs absolutely no introduction to horror fans. BRUCE originally hit the big screen in the role of ASHLEY "ASH" J. WILLIAMS in the classic 1981 Sam Raimi film THE EVIL DEAD. Filmed over the course of four years, the film gradually gained distribution and garnered a glowing endorsement by Stephen King.
Six years later BRUCE reprised the role of ASH in EVIL DEAD II, which garnered even more praise by horror fans. In 1992 BRUCE once again reprised the role in Raimi's ARMY OF DARKNESS.
Fans waited many years for the fourth film in the series but that never came. Instead, BRUCE returned to the chainsaw wielding role of ASH in the 2015 television series ASH VS THE EVIL DEAD. The series last three seasons on Starz network. After the cancellation of the series, BRUCE has gone on to say that he is retiring from the role of ASH.
BRUCE has also starred in a wide variety of other film and television projects. BRUCE starred in the role of ELVIS/SEBASTIAN HALF in the popular 2002 film BUBBA HO-TEP. Horror fans will also recognize BRUCE for his roles in films such as WAXWORK II: LOST IN TIME, MANIAC COP 1 & 2, CONGO, ESCAPE FROM LA, DARKMAN and many more.
BRUCE is also easily recognizable for his vast work in television. BRUCE played the title role in THE ADVENTURES OF BRISCO COUNTY JR., JACK OF ALL TRADES, ELLEN, HERCULES: THE LEGENDARY JOURNEYS and XENA: WARRIOR PRINCESS.
BRUCE is not able to attend either of our New Jersey shows so New Jersey MONSTER-MANIACS rev up your engines and take the trip down to HUNT VALLEY, MD for this special appearance at MONSTER-MANIA CON 44!
Please join us in welcoming BRUCE CAMPBELL to his FIRST MARYLAND MONSTER-MANIA CON appearance with us at MONSTER-MANIA CON 41 in Hunt Valley, MD
!
Don't wait, ORDER YOUR TICKETS for the show here:
https://purchase.growtix.com/eh/Monster_Mania_Con_44