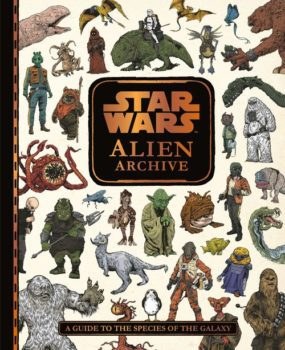 Tim McDonagh will be signing Star Wars Alien Archive and Star Wars Galactic Atlas at the Forbidden Planet London Megastore on Thursday 4th October from 6:00 – 7:00 PM.
Wookiees, wampas and weequays, biths, banthas and bogwings; porgs, puffer pigs and Pau'ans!
Deep in the stacks of the Graf Archive, an old traveller's journal has been discovered and restored for public viewing. A long time ago this unknown traveller documented his stories about the many creatures found in each destination he explored, and includes famous movie locations such as the Mos Eisley cantina on Tatooine, Maz's Castle and the holy city of Jedha.
The archivist restored this journal and added facts and stats about the cultures, legends and famous members of over 200 species, including famous characters such as Chewbacca, Ahsoka, Wicket and many more.
The Galactic Atlas covers everything from Alderaan and Naboo to Tatooine and Yavin 4, taking in the epic stories, strange creatures and glorious vistas of the entire saga.
The Rogue One spread introduces fans to a whole new terrain. Set before Star Wars: A New Hope, Rogue One follows a rag-tag group of rebel commandos who must steal the plans to the Empire's new superweapon, the Death Star. This standalone story transports fans to unseen corners of the Star Wars universe and strange new planets not to mention an encounter with a familiar adversary, Darth Vader.
Both books are beautifully illustrated with full colour artworks, sketches and diagrams by Tim McDonagh.
Forbidden Planet London Megastore
179 Shaftesbury Avenue, London, WC2H 8JR
0207 420 3666