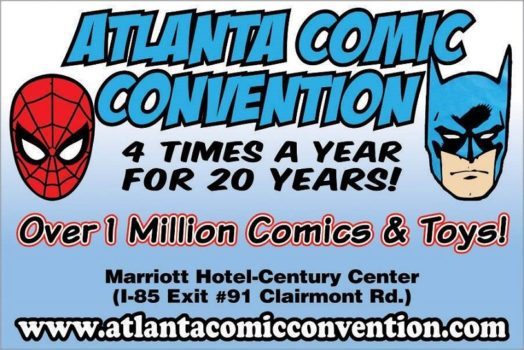 Convention Name

Atlanta Comic Convention October 7th 2018

Convention Website Address
http://www.atlantacomicconvention.com
This convention will take place:
Date (Format mm/dd/yyyy)

10/07/2018

About This Convention
The NEXT ATLANTA COMIC CONVENTION WILL BE SUNDAY October 7th, 2018!
The show is 11am to 5 pm at the Marriott Hotel – Century Center, 2000 Century Blvd, Atlanta Ga 30345. ADMISSION ONLY 5.00 .
GUEST FOR THE SHOW:
BOB CARTER
He is a Voice Actor with 86 Roles in 68 of the HOTTEST Projects! Dragon Ball ( DRUM) , Dragon Ball Z ( Bojack) and GT ( Syn Shenron) , Street Fighter( Balrog) , Full Metal Alchemist ( Sig Curtis, Cray) , One Piece ( Dorry , Gedatsu , Shine) , Lupine the Third ( Maccheroni , Gondoh , Gensi) , Mortal Kombat ( Baraka, Shao Kahn) , Fairy Tail ( Doll) ,
Hetalia ( Cuba), Shin Chan ( Frank), Case Closed ( Inspector Greer, Kristopher McLaughlin, Isaac Hannigan ) and many, many MORE!
He will sign ONE item you bring him FOR FREE!
The BEST One Day Show in the South! 4 times a year for 24 years! Over ONE MILLION Comic Books ( Gold, Silver, Variants, CGC, Hottest Titles from 1.00 to 10,000) , Toys ( Vintage and New, Marvel Legends, DC Direct, Pops, Star Wars) , Dr. Who, Movie Posters , X-Files, Star Trek, Pokémon, Yu Gi Oh, Bladed Weapons ( knives and swords) … More! The Fan-Friendliest Show in the South!

COME IN COSTUME AND GET A FREE GIFT AT THE DOOR ( with paid admission)
FREE PARKING!
Go to the website www.atlantacomicconvention.com
for full Details, Updates, Please Join our FB page Atlanta Comic Convention. THE BEST VALUE IN FANDOM! We Hope to see you there!

Venue Name and Address
Marriott Hotel – Century Center
2000 Century Blvd
Atlanta, Georgia 30345
United States
Map It
Number of Dealer/Exhibitor Tables

60

Projected Attendance

500

Please select the Category that best describes the convention

Comic Books

Additional Categories

Anime
Science Fiction and Fantasy
Collectibles

Guests

Bob Carter Voice Actor of 86 projects Dragon Ball series, Full Metal Alchemist , Street Fighter, MORE!