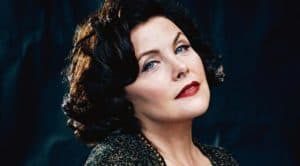 Press Release:
The Baltimore Comic-Con is pleased to announce the addition of Sherilyn Fenn to the show on all three days, September 28-30, at the Baltimore Convention Center. Get your VIP, General Admission, Fan Package, and Ringo Award tickets online now at our website.
Sherilyn Fenn will be appearing at the Baltimore Comic-Con just weeks ahead of her premiere in the DC Universe series, Titans, where Sherilyn is appearing in the role of Raven's mother. Titans will premiere October 12, 2018.
Sherilyn Fenn will always be best remembered for her iconic role of Audrey Horne in the groundbreaking Twin Peaks. She also returned for last year's Twin Peaks revival on Showtime, where her dance scene was named as the best musical moment on television for 2017 by Vulture. But Sherilyn has enjoyed a 30+ year career in Hollywood, including memorable roles on the series Shameless, Ray Donovan, Gilmore Girls, and Rude Awakenings, and in films like the recent horror film Wish Upon, Of Mice and Men, and the cult classics Two Moon Junction and The Wraith.
Sherilyn currently has a recurring role on the hit CBS series S.W.A.T. and also has also has a small but important role in the upcoming live-action Teen Titans TV series Titans, where she plays the mother of Raven. She is currently filming the biopic of silent film-era heartthrob Rudolph Valentino, Silent Life. Ms. Fenn has also recently published her first children's book called No Man's Land, which tells the story of a child on the autism spectrum.
"I love that we're getting a member of the Titans cast before the show even premieres," said Marc Nathan, show promoter for the Baltimore Comic-Con. "Sherilyn Fenn is a huge Hollywood name, and her Twin Peaks role cemented her place in the pantheon of modern actresses. Her fan base is fantastic, and we know they're going to be as excited as we are to get to meet her in Baltimore."
In the coming weeks, look for more announcements from the Baltimore Comic-Con. We are looking forward to highlighting our guests, the Ringo Awards, industry exclusives, and programming. The latest developments can always be found on our website, Twitter, Instagram, and Facebook pages.