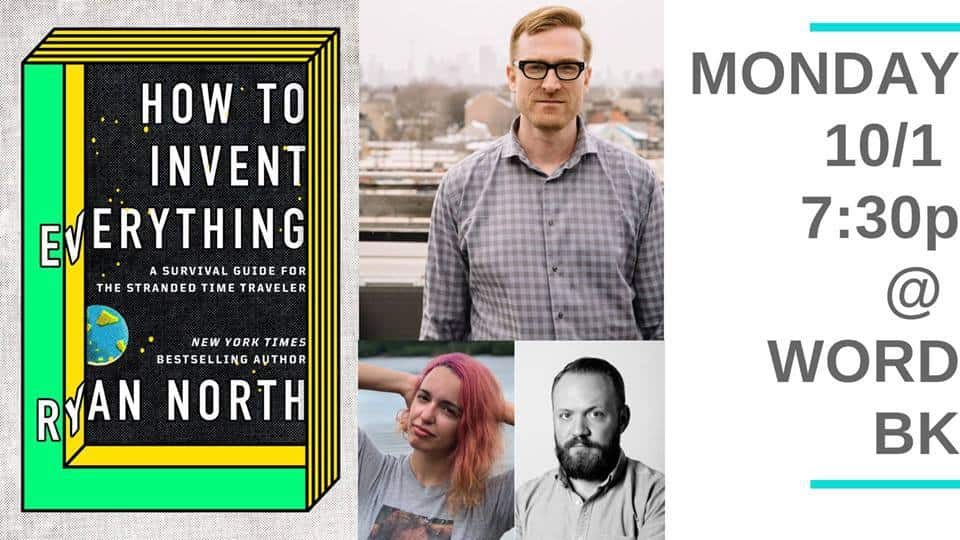 Cartoonists Ryan North, Carly Monardo, and Christopher Hastings appear at Word Bookstore on Monday, October 1, 2018 at 7:30 PM.
What lay the groundwork for how our society functions in 2018? What steps did humankind take to lead us right here, right now? How hard is it, exactly, to build a working computer out of crabs? In How To Invent Everything, Ryan North answers these questions and many, many more, and in doing so, illuminates the values that our society holds dear while presenting a compelling blueprint to the resilience and ingenuity of humankind across the ages.
ABOUT RYAN NORTH
Ryan North is the New York Times-bestselling author of Romeo and/or Juliet and To Be or Not To Be. He's the creator of Dinosaur Comics and the Eisner Award-winning writer of Adventure Time, Jughead, and The Unbeatable Squirrel Girl for Marvel Comics, and he has a master's in computational linguistics from the University of Toronto. Ryan lives in Toronto with his wife, Jenn, and their dog, Noam Chompsky.
ABOUT CHRISTOPHER HASTINGS
Christopher Hastings is a writer who mostly works in comic books. He is the author of The Adventures of Dr. McNinja, a continuing online comic series with book collections available from Dark Horse Comics. He also writes the ongoing Adventure Time comic series, and the Unbelievable Gwenpool, which he co-created. Christopher has also written Vote Loki, Longshot Saves the Marvel Universe, and a smattering of Deadpool comics.
ABOUT CARLY MONARDO
Carly Monardo is an artist and performer living in Brooklyn, NY. She has worked behind the scenes on such animated favorites as Venture Bros. and Steven Universe, and in front of the scenes as a house performer at NYC's Magnet Theater. Look for her on the streets of the city waving at other people's dogs.
Word Bookstore
126 Franklin Street, Brooklyn, NY 11222-2002
(718) 383-0096