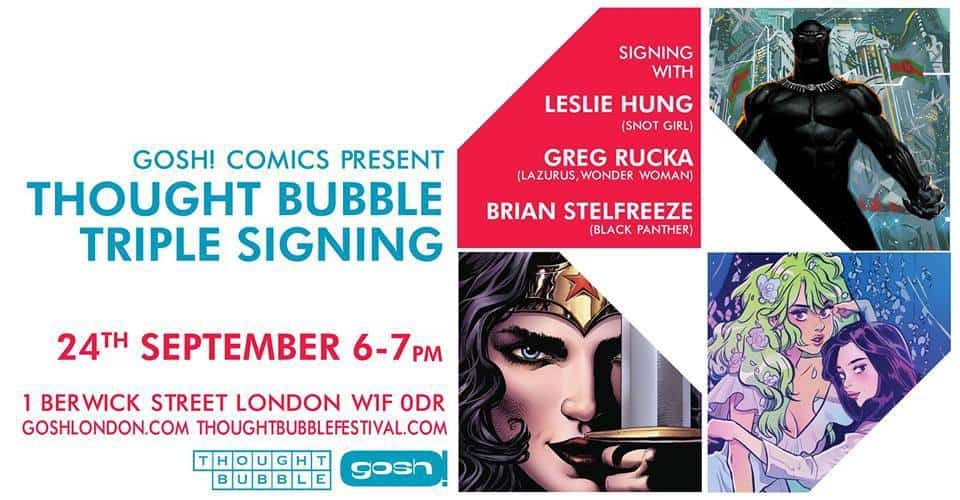 Leslie Hung, Greg Rucka, and Brian Stelfreeze will be signing at Gosh Comics on Monday, September 24th from 6:00 – 7:00 PM!
Brian Stelfreeze is an industry veteran, best known currently for his work on Ta-Nehisi Coates' Black Panther, which might be the most exciting thing to happen to the franchise in its 50-year history. His illustration for the series has been universally admired for its masterful rendering of the world of Wakanda and stylized high contrast shading.
Greg Rucka is the Eisner award-winning writer whose work always causes a ruckus at Gosh! He's the writing powerhouse behind Gotham Central, Batwoman, Lazarus, and Wonder Woman, among many fantastic titles. We love him for his ability to breath life into high-concept storylines by creating powerfully human and complex characters, while also spinning a pretty entertaining yarn!
Illustrator and Podcaster Leslie Hung burst onto the comics scene with her gorgeous drawings for Snotgirl (written by Bryan Lee O'Malley). Her glossy, lithe, and acid coloured work really grabbed our attention and turned this riveting tale of glamour, Insta-fame and murder into something very special.
Leslie Hung, Greg Rucka and Brian Stelfreeze will be stopping here after their appearance at Thought Bubble over the weekend. Thought Bubble, as all right-thinking comics people know, is one of the finest festivals going: a celebration of comics in their many, varied forms, with a line-up of guests that is second to none. Check out their website for information on this year's festival.
Gosh Comics
1 Berwick St, SoHo, London W1F0DR
United Kingdom