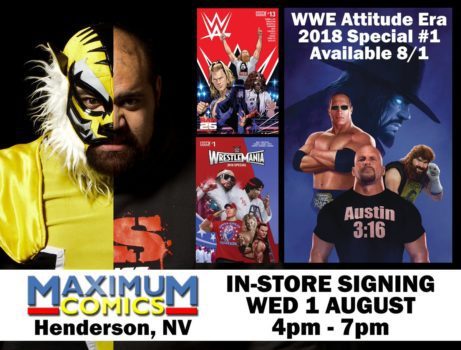 MaximuM Comics hosts a signing with artist Michel Mulipola on Wednesday, August 1st from 4:00 – 7:00 PM!
Michel Mulipola is a Samoan comic book artist and professional wrestler based in Auckland, New Zealand. He is the artist and co-collaborator for the Headlocked graphic novel series and also illustrates for BOOM! Studios' WWE line of comic books.
As a pro wrestler, he has claimed the New Zealand Tag Team championships with the world's toughest wrestler, Haku. In comics, he has worked with the likes of Samoa Joe for the WWE comics and AJ Styles, The Young Bucks, Jerry 'The King' Lawler, Booker T, Hurricane Shane Helms, Christopher Daniels and many more on the Headlocked graphic novels.
MaximuM Comics 2.0
520 Marks St, Ste 130, Henderson, Nevada 89014
(702) 242-6642