Press Release: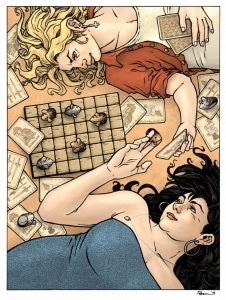 Our annual tradition, the Baltimore Comic-Con Yearbook, returns in 2018 for the seventh year, celebrating creators appearing at this year's show. This year's book of art features interpretations of characters from Terry Moore's Strangers in Paradise, as well as his other creations, sometimes in conjunction with the contributing guest's own creations, and celebrating creator-owned properties.
Beautifully designed by returning guest and Time and Vine creator Thom Zahler, the book comes in a standard and, for VIP ticketholders, a limited VIP cover edition.
As described by Moore in the introduction to The Collected Strangers in Paradise, Volume One, "SiP," as it is referenced by its fanbase, is "this story about 2 girls and a guy who gets to know them". Readers will recognize this as a dramatic oversimplification of what has become a very layered and intricate character-driven story that follows the relationship between two women, Helen Francine Peters (who goes by Francine) and Katina Marie ("Katchoo") Choovanski, and their friend David Qin. Katchoo is in love with Francine and David is in love with Katchoo and Francine is best friends with Katchoo. The story explores the love triangle (which eventually turns into a love rectangle when Casey Bullock joins the cast, marrying Francine's ex-boyfriend Freddie Femmur, and becomes even further complicated when she divorces and pursues both David and Katchoo romantically!), explores Katchoo's past as an underage lesbian hooker, and delves into the Parker Crime Syndicate. David's sister Darcy runs the "Parker Girls" under an international crime syndicate called the Big Six which has influence over the world of politics. Additionally, Parker Girls are used to control, manipulate, spy upon, and ultimately kill men and women in positions of power and authority for the Big Six.
"Baltimore Comic-Con's Yearbook is a special treat for pros and fans alike," said Moore. "It's such an honor to see my characters represented in this year's book. The talent and imagination of the contributing Baltimore creators is second to none. I know this for a fact because I've seen some of the artwork already and it's fun, gorgeous, and inspiring. I can't thank everyone enough for this incredible honor. I'm humbled by your talent and support."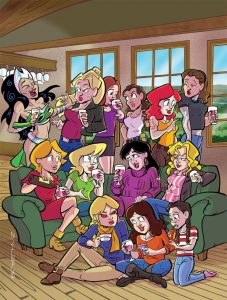 As if that wasn't enough depth, Moore has incorporated characters from his other comic titles into the SiP canon. These include characters from: Echo, which revolves around Julie, a young photographer who inadvertently discovers a high-tech battle suit; Rachel Rising, which follows Rachel Beck, a young woman who wakes up in a shallow grave and begins trying to solve her attempted murder, only to learn of a plot to destroy her town which she must save along with a group of allies; and Motor Girl, a diverse tale involving an Iraq War veteran with PTSD, a junkyard that has a high volume if UFO traffic, an imaginary friend who is a gorilla, a weapon against UFOs, alien visitors, an abduction of an alien visitor, an attempt to free the abducted alien, and an all-out alien invasion.
Once again, our popular scavenger hunt returns in 2018! When you buy the book, you'll get a list of Yearbook contributors and their table numbers. If you succeed in your hunt, you can get your choice of bonus prints!
"Terry Moore creates amazingly unique work" said Marc Nathan, show promoter for the Baltimore Comic-Con. "His artwork is beautiful and distinctive, his characters are stunning and diverse, and his stories are utterly mesmerizing. It has been a treat watching all of the different artists' interpretations coming in and seeing Terry's characters presented in a variety of styles. This Yearbook should prove to be a must-grab item for our attendees in 2018!"
Art created for the 2018 Baltimore Comic-Con Yearbook celebrating the characters of Terry Moore will be auctioned off at the Baltimore Comic-Con Art Auction on Saturday, September 29th at 5pm. Fans and art collectors alike won't want to miss this opportunity to win these one-of-a-kind items, only available at the Baltimore Comic-Con!
The book will be sold in the Exclusives Booth in the lobby. The book will be available at the Baltimore Comic-Con for $29.99. The art auction featuring original art from the book will be held at 5pm on Saturday, September 29th in our Main hall.
The Baltimore Comic-Con is celebrating its 19th year of bringing the comic book industry to the mid-Atlantic area on September 28-30, 2018 at the Baltimore Convention Center in the Inner Harbor. For more information, please visit www.baltimorecomiccon.com.