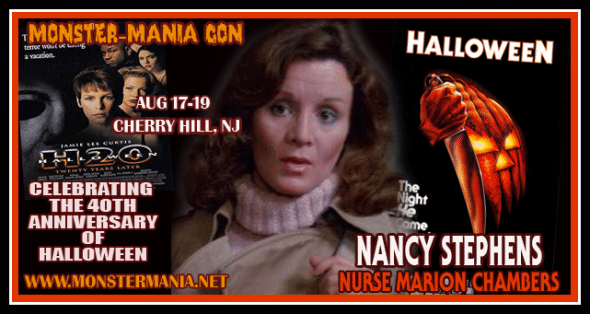 Join us at MONSTER-MANIA CON 40 as we continue to celebrate the 40th Anniversary of John Carpenter's HALLOWEEN!
We are VERY happy to announce that NANCY STEPHENS has cleared her schedule and will indeed be making not only her FIRST MONSTER-MANIA CON appearance with us at MONSTER-MANIA CON 40 but also her First Ever East Coast appearance the weekend of AUGUST 17-19th in Cherry Hill, NJ!
NANCY played the role of NURSE MARION CHAMBERS in John Carpenter's original classic HALLOWEEN and also reprised the role in the sequel, 1981's HALLOWEEN II. NANCY then played the role once more in 1998's HALLOWEEN H2O: 20 YEARS LATER.
NANCY has starred in a number of other film and television projects which include John Carpenter's 1981 film ESCAPE FROM NEW YORK, AMERICAN DREAMER, D2: THE MIGHTY DUCKS, A TIME FOR DANCING, BATTERED, RUSSKIES and many, many more. NANCY is also married to Rick Rosenthal who directed HALLOWEEN II and also HALLOWEEN: RESURRECTION.
Please join us in welcoming NANCY STEPHENS to her first appearance with us at MONSTER-MANIA CON 40 in Cherry Hill, NJ!
For tickets be sure to visit our website at www.monstermania.net