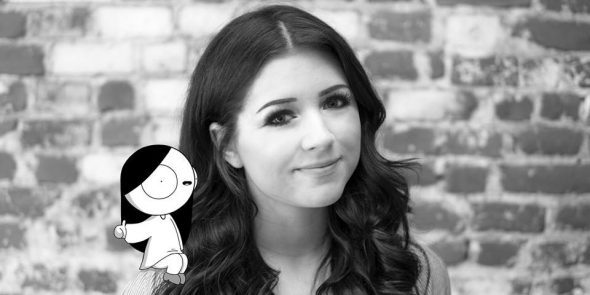 Press Release:
The Last Bookstore is pleased to present Catana Comics creator Catana Chetwynd and her new book, Little Moments of Love, a sweet collection of comics about the simple, precious, silly, everyday moments that make up a relationship. She will be joined by artist and author Liz Climo on Friday, July 13th at 7:30 PM!
Note: We've sold all our seats for this event BUT we've got plenty of standing room! Pre-buy your book now, and come get it signed!
What began as stray doodles on scraps of paper became an internet sensation when Catana Chetwynd's boyfriend shared her drawings online. Now, Catana Comics touches millions of readers with its sweet, relatable humor. Little Moments of Love collects just that – the little moments that are the best parts of being with the person you love.
Catana Chetwynd is a self-taught traditional artist and the enthusiastic author of Catana Comics. She grew up in Saratoga Springs, New York, where she spent her time creating art and pursing an education in psychology until accidentally stumbling into the world of comics. Not only is her boyfriend John the daily inspiration for her drawings, but he was also the one who suggested a comic series about their relationship in the first place. Thanks to his idea and his inspiring daily antics, Catana was able to pursue her childhood dream of being a cartoonist. She currently lives in New York with John, and their tiny, angry dog Murph.
Liz Climo grew up in the San Francisco Bay Area and moved to Los Angeles after college to work as a character artist on The Simpsons. She started a comic blog, LizClimo.tumblr.com, and is the author and illustrator of the books Rory the Dinosaur, The Little World of Liz Climo, and Lobster is the Best Medicine. Liz currently lives in Los Angeles with her husband, and their daughter.
The Last Bookstore
453 S Spring Street, Los Angeles, California 90013
(213) 488-0599