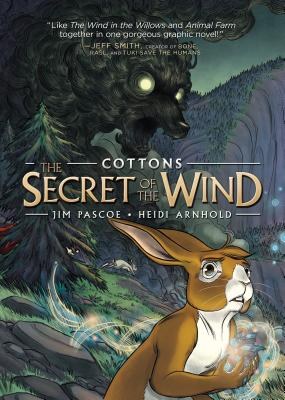 Writer Jim Pascoe and illustrator Heidi Arnhold appear at Mysterious Galaxy Books on Friday, July 6th at 7:30 PM to sign their new graphic novel COTTONS: THE SECRET OF THE WIND.
Jim Pascoe is a writer, designer, and an award-winning creative director. His comics credits include Buffy the Vampire Slayer, Hellboy Animated, and the original series Undertown. He lives in Los Angeles, where he drinks coffee, sleeps very little, and believes in magic.
Heidi Arnhold is a graduate of the Savannah College of Art and Design whose published works have involved popular franchises like Star Trek, The Dark Crystal, and Fraggle Rock. The art in Cottons is powered by Heidi's love for visual storytelling, all rabbits, and kale smoothies.
This event is free and seating is first come, first serve. To get a book signed during one of our events, a copy of the event book must be purchased through Mysterious Galaxy. Event purchases through Mysterious Galaxy not only keeps our bookstore doors open, but also makes author signings possible.
Mysterious Galaxy Books
5943 Balboa Avenue, San Diego, CA 92111
858-268-4747