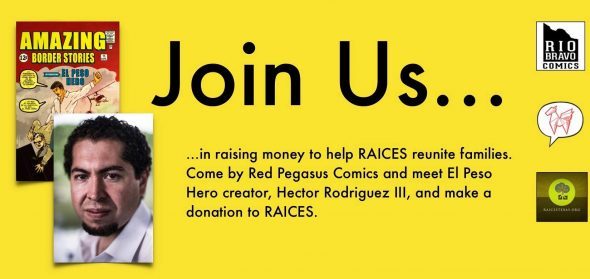 Hector Rodriguez III, creator of El Paso Hero, appears at Red Pegasus Comics on Saturday, June 30, 2018 from noon till 6:00 PM. All sales of El Peso Hero will be donated to RAICES.
We are encouraging everyone to make a donation to RAICES to help those in need of asylum or who's families are suffering separation.
The Refugee and Immigrant Center for Education and Legal Services (RAICES) is a 501(c)(3) nonprofit that promotes justice by providing free and low-cost legal services to underserved immigrant children, families and refugees in Central and South Texas. RAICES is the largest immigration non-profit in Texas with offices in Austin, Corpus, Dallas, Fort Worth, Houston, and San Antonio.
Red Pegasus Comics
319 N. Bishop Ave, Dallas, Texas 75208
(972) 413-8716