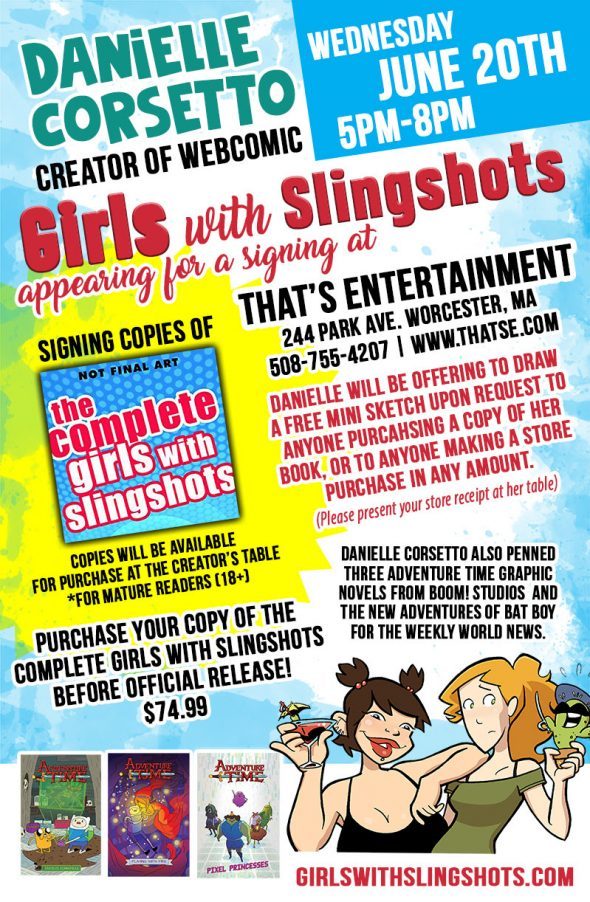 Danielle Corsetto, creator of webcomic Girls With Slingshots, will be appearing at That's Entertainment in Worcester, MA on Wednesday, June 20th from 5:00 p.m. to 8:00 p.m. for an in-store signing.
Corsetto will be signing copies of her new book The Complete Girls with Slingshots, which will be available to purchase directly at her table for $74.99 each (suggested for a mature audience). She will also be offering to draw a free mini sketch upon request to anyone purchasing a copy of her book, or to anyone making a store purchase in any amount. Please present your store receipt at her table.
Danielle Corsetto is the creator of the webcomic Girls With Slingshots, which ran from 2004-2015. She also penned three Adventure Time Original Graphic Novels for BOOM! Studios, and wrote and drew The New Adventures of Bat Boy for the Weekly World News. She posts silly autobio strips about her cats and yoga at Stuckat32.com, and is writing a sex ed comic with Monica Gallaher called BOO! It's Sex, debuting on Webtoons this summer.
That's Entertainment
244 Park Ave, Worcester, MA 01609
(508) 755-4207