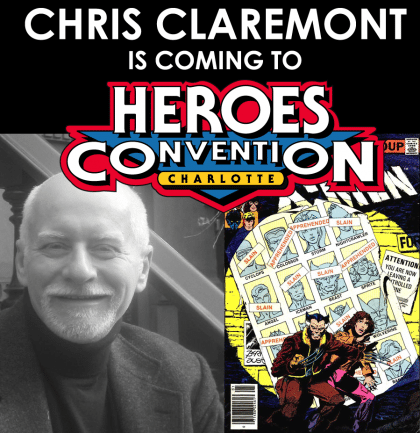 Comics legend Chris Claremont is coming to HeroesCon! Don't miss this chance to meet him June 15-17 in Charlotte, NC!
Claremont is one of the most influential writers of superhero comics, renowned for his 17-year run on Uncanny X-Men. During that period, the X-Men became one of the most popular comic book franchises in history. Claremont is credited with the creation of legendary characters including Legion, The New Mutants, Rogue, Gambit, Sabretooth, Kitty Pryde, and the White Queen amongst many others. It is a conservative estimate that Claremont has sold in excess of 750,000,000 comics worldwide.
For the full guest list with table assignments please go here….
For the most up-to-date information, check our blog, or sign up for the weekly Heroes Hotline newsletter. You can also follow us on Twitter and Facebook!
BUYING AN ADVANCE PASS MEANS YOU'LL GET ANY ADVANCE INCENTIVES WE OFFER, FREE!
ENTRY WILL BE $25: FRI $25: SAT $20: SUN / AT THE SHOW ITSELF, SO YOU SAVE AS MUCH AS $20 BY PURCHASING ADVANCE PASSES TODAY! TICKETS ARE NOT REFUNDABLE, UNDER CERTAIN CIRCUMSTANCES WE MAY CREDIT AN UNUSABLE TICKET TOWARD FUTURE TICKET PURCHASES.
HEROES CONVENTION was founded in 1982 by Shelton Drum, owner of Charlotte's Heroes Aren't Hard To Find comics shop. Since then the convention has become famous for its comics-first and family-friendly atmosphere, where fans can mingle directly with professionals and exhibitors. Boasting an incredible guest list built mainly on reputation and goodwill, HeroesCon is known nationwide as a "must" on the summer schedule, drawing fans, exhibitors, and creators from all over the world to the Charlotte Convention Center.