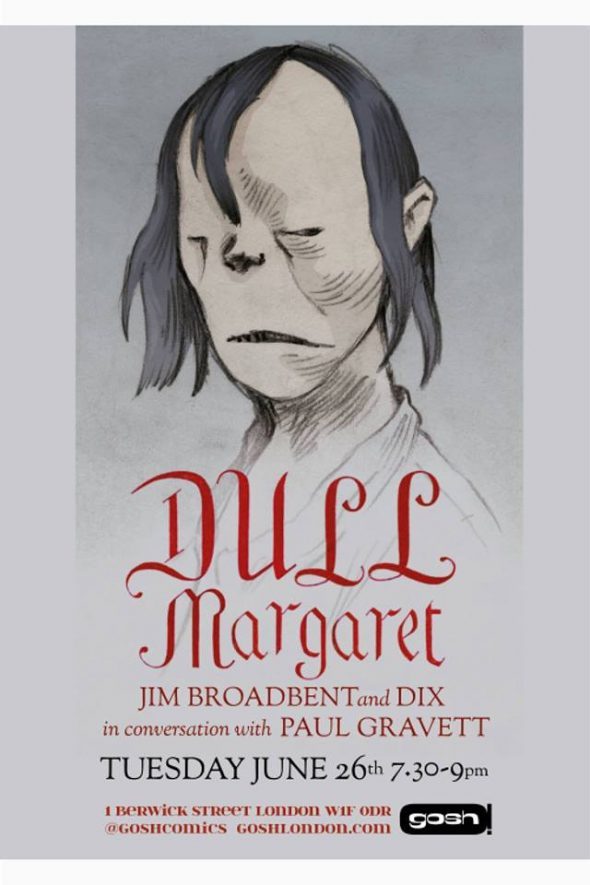 Actor Jim Broadbent and cartoonist Dix appear in conversation with Paul Gravett on Tuesday, 26th June at 7:30 PM at Gosh Comics.
The Academy Award-winning actor, Jim Broadbent and Guardian cartoonist Dix have joined forces to create their first graphic novel, Dull Margaret from Fantagraphics.
Dull Margaret was inspired by Dulle Griet, a 16th-century painting by Pieter Bruegel the Elder. She is a damaged soul, struggling to navigate a perplexing world. She's disliked and shunned by her neighbours, and is soon sent to live far away from civilization where she begins to brew her own potions, wishing for friendship and fortune. But, she needs to be wary of what she wishes for, as her magic propels her into a number of dark twists and turns.
Intense and humorous, Dull Margaret is one of the most anticipated and unexpected graphic novels of 2018.
Jim Broadbent is a highly-acclaimed British actor who has starred in many films and television features, including Harry Potter and Game of Thrones. He was inspired to write Dull Margaret after becoming fixated on the mysterious landscapes and marshes of Lincolnshire.
Dix is best known for his cartoons and illustrations which are featured in the Guardian, as well as co-creating KLAXON, another graphic novel.
Gosh Comics
1 Berwick St, SoHo, London W1F0DR
United Kingdom