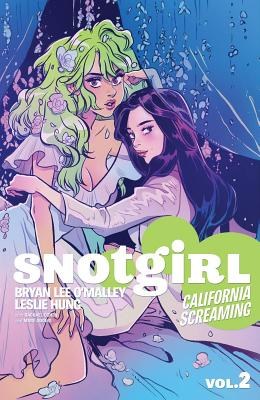 Bryan Lee O'Malley & Leslie Hung appear at Skylight Books on Friday, June 22, 2018 at 7:30 PM to present and sign SNOTGIRL!
Fashion! Murder! Allergies?! Snotgirl, the acclaimed comic book and graphic novel series from co-creators Bryan Lee O'Malley (Scott Pilgrim) and acclaimed artist Leslie Hung returns with Snotgirl Volume 2: California Screaming. Snotgirl features the adventures of an LA-based fashion blogger whose glamorous life unravels due to severe allergies (and, to be fair, a possible murder for which she may be responsible).
O'Malley, who has relocated to Los Angeles from Canada, and Hung, who was born and raised in Southern, California and is making her comic book debut with the series, collaborate closely to tell a story that is underrepresented in pop culture – the story of a native Angeleno. "The classic LA story is someone moving to Hollywood to make it big," said Hung. "We want to tell a different story, about what it's like to start here, born and raised in the heart of image-obsessed California."
In Snotgirl Volume 2: California Screaming, Lottie Person is living her best life in LA — or at least that's what she wants you to think. Lottie's new bestie Caroline makes everything an emotional roller coaster: first she died, and then she killed someone. Who will Caroline hurt next, and why is her brother Virgil in town? Is Normgirl really going to marry Ashley? What in god's name did Sunny ever see in Charlene? And, of course, is Lottie ever going to stop sneezing?
O'Malley is best known for writing and drawing bestselling graphic novels, including Scott Pilgrim and Seconds, and Snotgirl represents several significant milestones for him — it is his first ever ongoing comic book series and also the first series he has co-created with another artist. "Leslie and I make up the storylines, but it's really the characters that drive the story. We're having a lot of fun throwing twists and turns at them, and we're just getting started."
Snotgirl is ripe with sex, love, fashion, social media angst and, yes, those pesky allergies. Gesundheit!
Bryan Lee O'Malley is a Canadian cartoonist best known for the bestselling, award-winning Oni Press series "Scott Pilgrim" (2004-2010). "Scott Pilgrim" was adapted into a critically-acclaimed major motion picture (from Universal) and video game (from Ubisoft) in 2010. O'Malley lives in Los Angeles, where he continues to make comics.
Skylight Books
1818 N. Vermont Ave, Los Angeles, CA 90027
323.660.1175