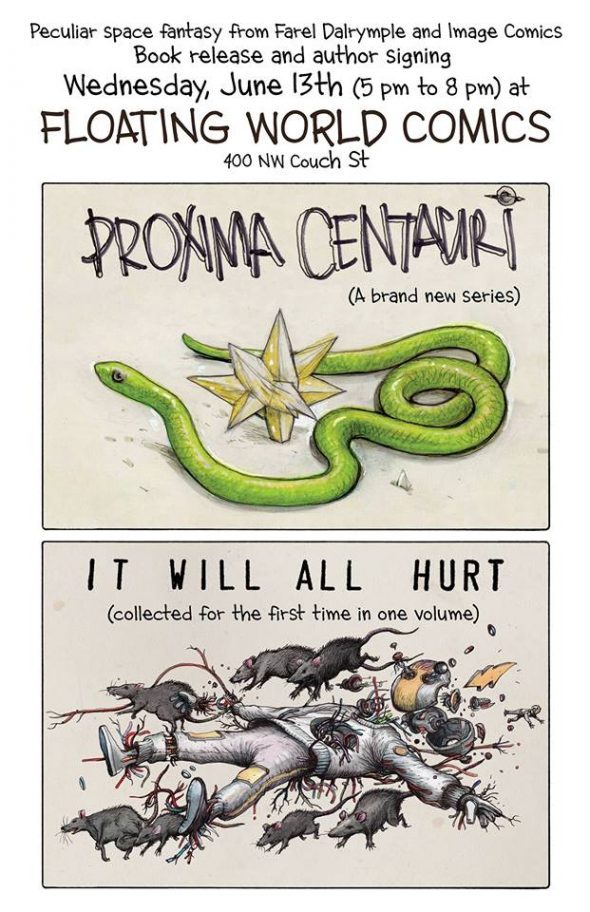 Cartoonist Farel Dalrymple appears at Floating World Comics on Wednesday, June 13th at 5:00 PM to celebrate the release of – not one – but two new books that expand the ever growing world of Pop Gun War and The Wrenchies.
First is a brand new miniseries from Image Comics: Proxima Centauri. 4.243 light-years from Earth, the teenage wizard adventurer Sherwood Breadcoat is stuck in the confounding spectral zone on the manufactured dimensional sphere, Proxima Centauri, looking for escape and a way back to his brother while dealing with his confusing emotions, alien creatures, and all sorts of unknown, fantastic dangers. In this issue The Scientist H. Duke sends Sherwood on a salvage mission and gives counsel to the troubled boy in his charge.Proxima Centauri will be six issues of PSYCHEDELIC SCIENCE FANTASY ACTION COMIC BOOK DRAMA starring Sherwood Breadcoat, "The Scientist" Duke Herzog, Dr. EXT the Time Traveler, the ghost M. Parasol, Shakey the Space Wizard, and Dhog Dahog.
Also arriving is the graphic novel collection of It Will All Hurt. A weird, sad, silly, sketchy, and dreamy watercolor fantasy-action quest in which Alemendra Clementine and her crew of anti-social adventurers all come together on a psych-apocalyptic world to take down an evil wizard. This Eisner Award-nominated webcomic, originally serialized on Study Group Comics, began as a loose stream-of-consciousness exercise and exploration of the comic book medium and takes place in the same world as FAREL DALRYMPLE's The Wrenchies. Collects IT WILL ALL HURT #1-3, plus all six chapters of the webcomic.
Floating World Comics
400 NW Couch Street, Portland, OR 97209
(503) 241-0227