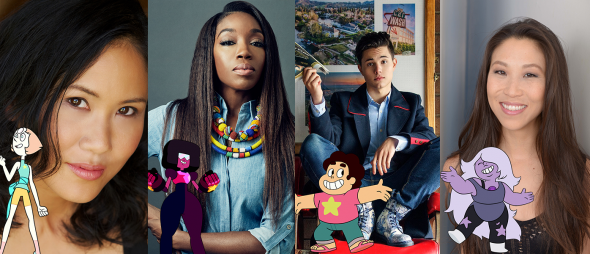 Press Release:
MomoCon 2019 is already on the way and getting ready to go on May 23-26, 2019! Happy to announce our first guests for the 2019 event, the Crystal Gems from Steven Universe!
Deedee Magno Hall is currently the voice of "Pearl" on Cartoon Network's Emmy nominated series, Steven Universe & "Snuggs" the hedgehog in Doc McStuffins on the Disney Channel. Her theater credits include: "Kim" Miss Saigon, "Nessarose" Wicked , "Diana" Next To Normal, If/Then, "Mrs. Walker" The Who's Tommy, and more! Her TV & Film includes: Original cast of Disney Channel's "New Mickey Mouse Club", Third Watch, Dellaventura, Rear Window, Face, Sister Act 2. Recordings: 4 albums with Hollywood Record's pop group, "The Party" & co-founder of mommy singing group, "Mama Bares".
Grammy award winner singer/songwriter Estelle achieved mainstream success in the U.S. with her single "American Boy" featuring Kanye West. However, fans of Cartoon Network recognize her as the voice of Garnet, the leader of the Crystal Gems in the insanely popular Steven Universe series. Estelle's influence on pop culture doesn't stop there, though, with a long list of film and television credits including We Bear Bears (that's her singing the theme song!) and Empire on FOX playing the character Delphine.
Zach Callison is an American music artist, actor, voice actor and content creator from Los Angeles, CA best known for his work as Steven in Cartoon Network's Steven Universe as well as Chuck in Amazon Studios' Just Add Magic.
Michaela Dietz is a Korean-American performer and voice over actress whose credits include: Steven Universe (Amethyst), Mighty Magiswords (Danelda), Barney & Friends (Riff), Grand Theft Auto V, Lego Dimensions (Chunk), and Krampus (Cherub).
For tickets and further information please go to the website: www.momocon.com