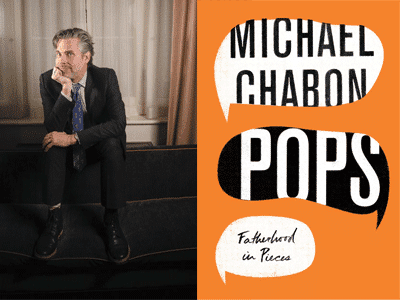 Pulitzer Prize-winning author Michael Chabon appears at Skylight Books on Thursday, June 14, 2018 at 7:30 PM to present and sign his new work of nonfiction, Pops: Fatherhood in Pieces.
NOTE: As with all Skylight Books in-store events, this reading is free and open to the public (first come, first served). But because we're expecting a large crowd at this event, we'll be giving out numbered tickets to the signing line to keep things organized, and will be accommodating our youngest guests first:
To get a ticket to the signing line, you must purchase a copy of Pops: Fatherhood in Pieces here at Skylight Books. Online presales will begin May 15, 2018, and books with tickets will be available for pickup also on beginning May 15, 2018.
For all website orders for this event, be sure to leave a note in the Order Comments field that you would like a ticket and plan to attend the event.
Can't attend? If you would like a signed book but will not be able to attend, click Signed Copy after adding the book to your cart and we'll do our best to get it signed for you. You  may pick up this book in the store after the event, or have it shipped to you.
Skylight's Friends with Benefits members get priority signing line tickets (and 20% off this and all other event books each month), so be sure to mention your membership (or join) when you order the book.
Michael Chabon is the bestselling and Pulitzer Prize-winning author of The Mysteries of Pittsburgh, A Model World, Wonder Boys, Werewolves in their Youth, The Amazing Adventures of Kavalier & Clay, Summerland, The Final Solution, The Yiddish Policemen's Union, Maps & Legends, Gentlemen of the Road, Manhood for Amateurs, Telegraph Avenue, Moonglow, and the picture book The Astonishing Secret of Awesome Man. He lives in Berkeley, California with his wife, novelist Ayelet Waldman, and their children.
Skylight Books
1818 N. Vermont Ave, Los Angeles, CA 90027
323.660.1175