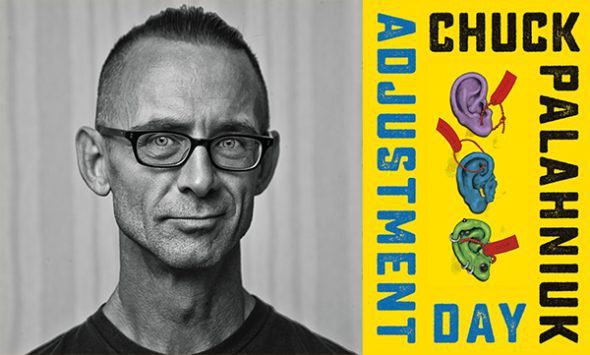 Author Chuck Palahniuk (Fight Club, Choke) appears at Brookline Booksmith on Saturday, May 12, 2018 from noon till 6:00 PM to sign ADJUSTMENT DAY. Get tickets here…
TICKETS
This event requires a ticket, available through EventBrite.
Each ticket comes with a copy of ADJUSTMENT DAY.
Every attendee must have a ticket.
All tickets are nonreturnable and nonrefundable.
SIGNING
This is a SIGNING-ONLY EVENT–there will be no reading/performance.
Chuck will begin signing books at noon on Saturday and will continue until at least 6PM–after that point he will continue to sign until he reaches the end of the line.
Chuck will sign ADJUSTMENT DAY, plus 2 additional items, which may be books or memorabilia.
Books will be personalized.
There will be posed photographs–please have your own device ready and Booksmith staff will take pictures for you!
OTHER NOTES
We will also have copies of the new paperback release of FIGHT CLUB 2; these and Chuck's other books may be purchased separately.
Further details and updates will be sent to ticketholders via email.
If you have a disability and require accommodation, please contact us at events@brooklinebooksmith.com.
Brookline Booksmith
279 Harvard Street, Brookline, MA 02446
(617) 566-6660