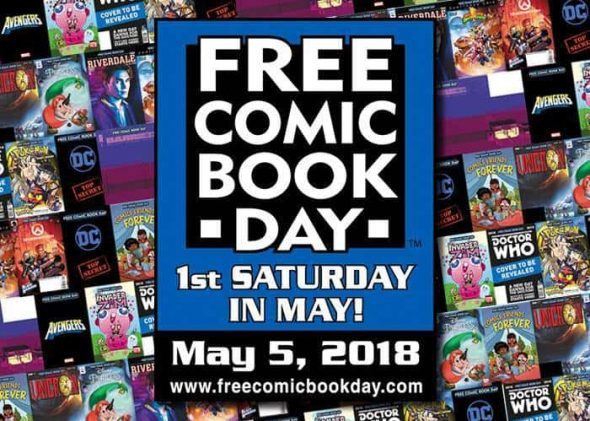 Press Release:
Join us on Saturday, May 5, 2018 for Borderlands Free Comic Book Day! This family-friendly event is perfect for long-time fans or newcomers to comics. We will have over 25,000 comics on hand to give away for FREE! We will have several special comics to give away as well…one of the free comics will be an exclusive Titan Comics Doctor Who cover available only at Borderlands Comics and Games! We will also have a DC Comics book with a bounce back coupon good for a whole year!
Also, The Blood Connection will be here starting at 7:30 am. Give blood and get a free SC Comicon T-Shirt, and you'll also be able to cut to the front of the line to get your free comics early!
SPECIAL FCBD SALES:
3 for $1 Comics
Back Issues (on the floor) 40% off
Board Stock 20% off
Comic Supplies 20% off
Kids Rack 20% off
New Comics 20% off
Games 20% off
Graphic Novels buy 2 get one free
Toys/Statues buy 2 get one free
Magnets and buttons buy 2 get one free
Posters 20% off
Cosplayers will be available for photos:
Cosplay Magnolia
Lady Kitz Cosplay
SC Upstate Heroes – SCUH
White Knight Cosplay
Artists will be on hand for free sketches:
Joshua Boroughs
Jason Enos
Jason E. Gwinn
Brandon Hendricks
Todd M Plumblee
Mitch Rogers
Come out and meet the folks with the 501st Carolina Garrison and the South Carolina Ghostbusters!
Borderlands Comics & Games
1434 Laurens Road, Greenville, SC 29607
(864) 235-3488