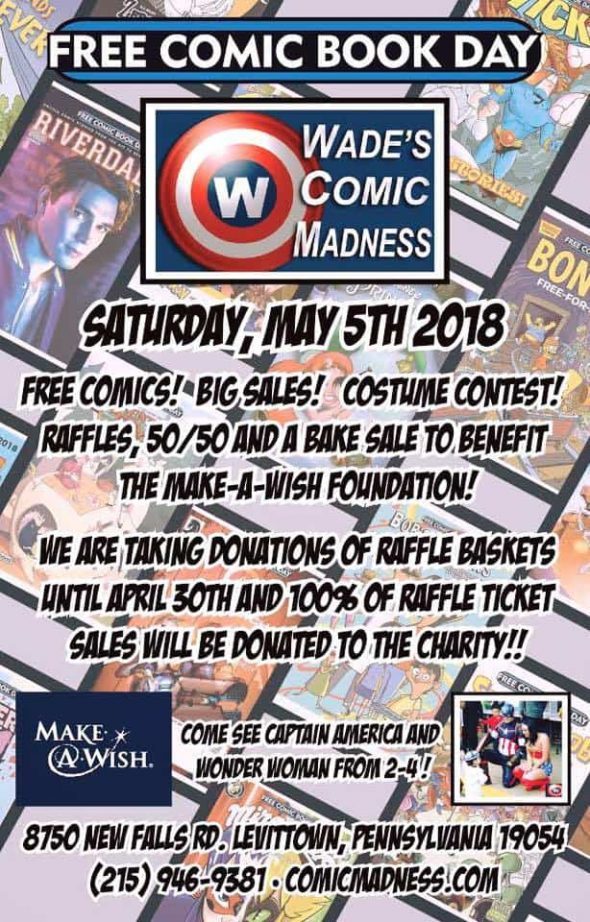 Wade's Comic Madness celebrates Free Comic Book Day on Saturday, May 5, 2018 with special guests:
10:00 AM – 5:00 PM: Artists JOE WIGFIELD and TOM ROMANO will be doing commissions and selling their prints!
10:00 AM – 5:00 PM: Jason from ZENESCOPE ENTERTAINMENT will have some Exclusives and giveaways!
11:00 AM – 12:00 PM: Comic writer AMY CHU will be signing her comics (KISS, Red Sonja, etc.!)
12:00 – 4:00 PM: Meg from the INSECTARIUM will be bringing some creepy crawly guys, like a LIVE TARANTULA and hissing cockroaches!
2:00 – 4:00 PM: Come meet WONDER WOMAN, STAR-LORD & CAPTAIN AMERICA and get a free digital photo with them!
Wade's Comic Madness
8750 New Falls Rd, Levittown, PA 19054
(215) 946-9381