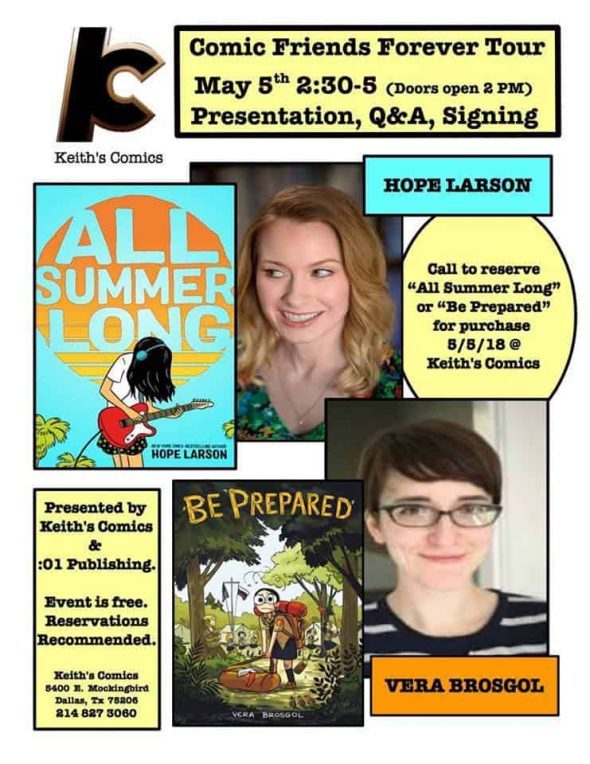 Comic creators Vera Brosgol and Hope Larson appear at Keith's Comics on Saturday, May 5 at 2:30 PM for a signing and Q&A.
"Be Prepared" (Brosgol): All Vera wants to do is fit in―but that's not easy for a Russian girl in the suburbs. Her friends live in fancy houses and their parents can afford to send them to the best summer camps. Vera's single mother can't afford that sort of luxury, but there's one summer camp in her price range―Russian summer camp. Vera is sure she's found the one place she can fit in, but camp is far from what she imagined. And nothing could prepare her for all the "cool girl" drama, endless Russian history lessons, and outhouses straight out of nightmares!
"All Summer Long" (Larson): Thirteen-year-old Bina has a long summer ahead of her. She and her best friend, Austin, usually do everything together, but he's off to soccer camp for a month, and he's been acting kind of weird lately anyway. So it's up to Bina to see how much fun she can have on her own. At first it's a lot of guitar playing, boredom, and bad TV, but things look up when she finds an unlikely companion in Austin's older sister, who enjoys music just as much as Bina. But then Austin comes home from camp, and he's acting even weirder than when he left. How Bina and Austin rise above their growing pains and reestablish their friendship and respect for their differences makes for a touching and funny coming-of-age story.
Keith's Comics
5400 East Mockingbird Lane #120 Dallas, TX 75206
(214) 827-3060