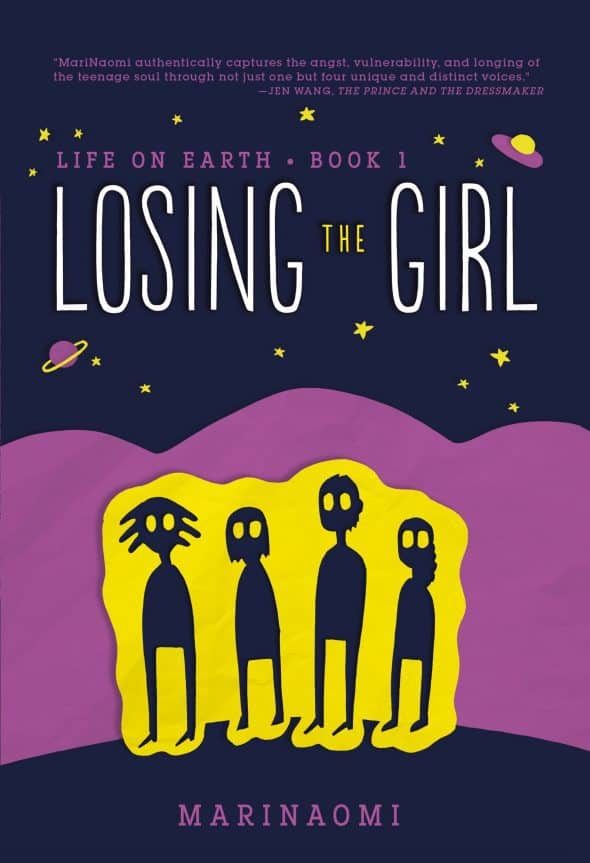 Cartoonist MariNaomi appears at Skylight Books on Thursday, May 3, 2018 at 7:30 PM to sign Losing the Girl (Life on Earth #1).
Claudia Jones is missing. Her classmates are thinking the worst . . . or at least the weirdest. It couldn't be an alien abduction, right? None of Claudia's classmates at Blithedale High know why she vanished—and they're dealing with their own issues. Emily's trying to handle a life-changing surprise. Paula's hoping to step out of Emily's shadow. Nigel just wants to meet a girl who will laugh at his jokes. And Brett hardly lets himself get close to anybody.
In Losing the Girl, the first book in the Life on Earth trilogy, Eisner-nominated cartoonist MariNaomi looks at life through the eyes of four suburban teenagers: early romance, fraying friendships, and the traces of a mysterious—maybe otherworldly—disappearance. Different chapters focus on different characters, each with a unique visual approach.
MariNaomi is the award-winning author and illustrator of four comics memoirs. Losing the Girl is her first graphic novel and her first foray into fiction that (possibly) involves alien life forms. She's also the creator of the Cartoonists of Color and Queer Cartoonists databases. She lives in California with her husband and many cats and dogs. Visit her website at marinaomi.com.
Skylight Books
1818 N. Vermont Ave, Los Angeles, CA 90027
323.660.1175