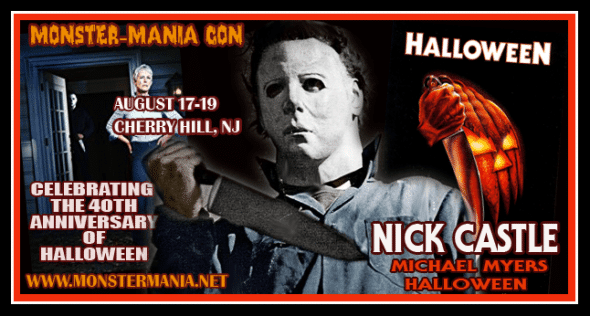 Join us at MONSTER-MANIA CON 40 as we continue to celebrate the 40th Anniversary of John Carpenter's HALLOWEEN!
We are VERY happy to announce that NICK CASTLE will be returning to CHERRY HILL, NJ for MONSTER-MANIA CON 40 which will be held the weekend of AUGUST 17-19th!
HALLOWEEN fans know that NICK essentially defined the role of MICHAEL MYERS in John Carpenter's original 1978 horror classic. Many have tried to imitate the mannerisms of THE SHAPE as portrayed by NICK in the film. Now, 40 years after the original film NICK will reprise the role in the new HALLOWEEN 2018 film which will be released in October of this year.
After the release of HALLOWEEN NICK moved behind the camera, taking on the role of director. NICK directed over 13 different projects including films such as 1984's THE LAST STARFIGHTER, 1986's THE BOY WHO COULD FLY, 1993's DENNIS THE MENACE and the 1995 comedy MAJOR PAYNE. NICK also co-wrote ESCAPE FROM NEW YORK with John Carpenter.
Please join us in welcoming NICK CASTLE back to MONSTER-MANIA CON 40 in Cherry Hill, NJ!
For tickets be sure to visit our website at www.monstermania.net