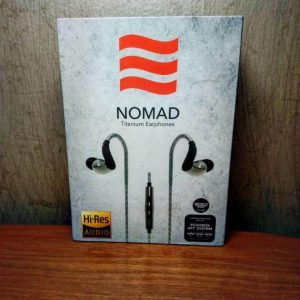 Press Release: 
Audio company Echobox has just announced a collaboration with ROTU Entertainment, which plans to integrate Echobox's unique titanium tech into its latest VR experience. To this end, Echobox's new Nomad earphones promise to offer gamers traditionally accustomed to over-ear headphones a new "in-ear" high-fidelity audio experience. This will grant gamers all the sound without any accompanying bulk, a feature long sought after by the gaming community. "The degree of realism these earphones offer is unprecedented," according to Echobox Director of Growth Josh McKenzie. "If a virtual grenade goes off near you in a game, you'll swear an actual grenade went off near you in real life."
The collaboration with ROTU Entertainment has all the signs of mutual benefit, as the company's acronym stands for "Rhythm of the Universe." According to ROTU Entertainment's CEO Jason Parks, "Players will use audio technology to engage with musical symbols,  instruments, and theory as these elements transform into characters, creatures, and ecosystems within a captivating and immersive other-worldly environment."
Echobox is no stranger to the concepts of sound and transformation. In recent years, the company has garnered substantial attention from the tech media for its innovative use of aerospace-grade titanium in consumer audio equipment as well as its above average presentation of affordable sound quality, with outlets like CNET, PC Magazine and Digital Trends offering high praise. For instance, while writing about Echobox earphones, Gear Patrol Magazine reviewer Tucker Bowe referred to them as "HiFi Headphones for the Masses."
Echobox's announcement to venture into the gaming industry with ROTU arrives ahead of the company's elaborate showcase at the 2018 PAX East in Boston.
Speaking once again about the company's progress before the event, McKenzie said that Echobox has recently rededicated itself to preventing gimmicks from intruding on the consumer experience. "We've seen a lot of people coming out with impressive new tech; however, these new products seem to be missing the most important feature of an earphone – having great sound quality," McKenzie said. "We have decided to take a minimalist approach, shrinking down the unnecessary extras. Everything starts with quality and expands from there."
Come by booth #24098 and experience a whole new way to play VR. Put yourself in the game! Visit upgrademysound.com for more info.