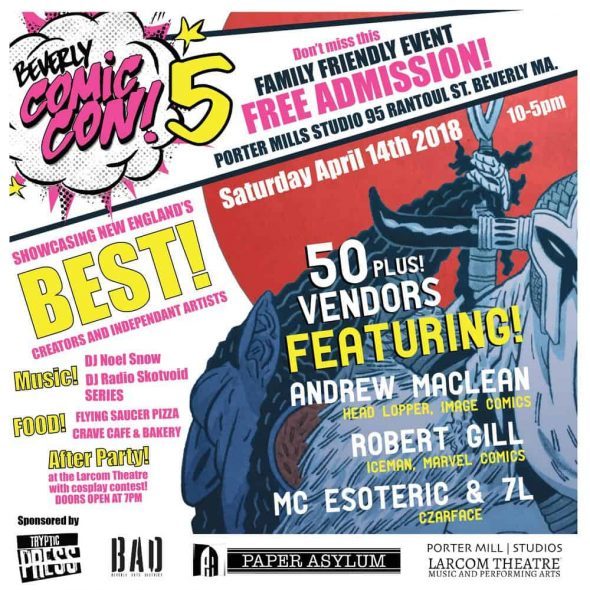 Press Release:
Join us on Saturday, April 14th for the fifth annual Beverly Comic Con hosted at Porter Mill Studios! Free to the public, family friendly and jam packed with local comic creators and unique vendors. Original art, posters, prints, handmade collectibles, t-shirts, graphic novels and of course comic books, will all be on hand for this one of a kind event.  RSVP on Facebook!
Free admission with plenty of parking across the street at the garage. Doors open to the public at 10am.
Special Guests:
Robert Gill – DC Comics, Marvel Comics, Valiant Comics
Andrew MacLean – Head Lopper, Image Comics
MC Esoteric & 7L – Czarface
Live music:
DJ Noel Snow
DJ Radio Scotvoid
SERIES
Artists and vendors:
Adam Miller
Ali Barker Arts
Amos Madruga Art
Andrew Houle
AshBeadle Illustration
Crave Bakery & Cafe
DanamalArt
Daniel Kern
David J. Leblanc – Action Abstraction
Designs by Dennis Art
Do or Diecast
Don Mathias – Peanizles
Eric Boeker
Eric Boireau
Finar Comics
Flying Saucer Pizza Company
Inebri-Art Podcast
Jacob & Zoey Cardinal
Jason Casey
Joe Haley & TJ Dort – The UnderBurbs
Josh Morrissette
Kay's Stained Glass
LSuperSonicQ – Robbie Short
Maura O'Connor Illustration
Mike Doherty
Montserrat College of Art
Paper Asylum Comics & Collectibles
Patt Kelley
Poetry Comix
Pretty Power Princess
Reckless Sidekick Productions
Renee Mallett
Richard Wentworth & Hadron Gospel Hour!
Sean Kiernan
SpeakEasy Donuts
Standup Comix
Suburban Bohemia
Taylor Popek – The Jellyfish Lady
The Book and Board – Comics and Gaming
The Castle: A Board Game Cafe
The Corey Press
The Painted Pastry – Aime Pope
Tom Torrey
XoWritingCo – Angela DiCicco
…and possibly a few more!
The Larcom Theatre will host the Official After-Party and Cosplay Contest of Beverly Comic Con from 8 PM – 10 PM! After enjoying a fun-filled day at Porter Mill, come over to the after-party at the theatre for a one of a kind Vaudeville show. You will see your favorite characters like you've never seen them before!
Cosplay Burlesque | Contortion | Aerials | Cyr Wheel | Live Art and More
Come in costume! Prizes awarded to the best cosplay costume! Full bar and concession stand. 18+ Details and tickets at the link…
Studios at Porter Mill
95 Rantoul Street, Beverly, MA 01915
(978) 921-1117