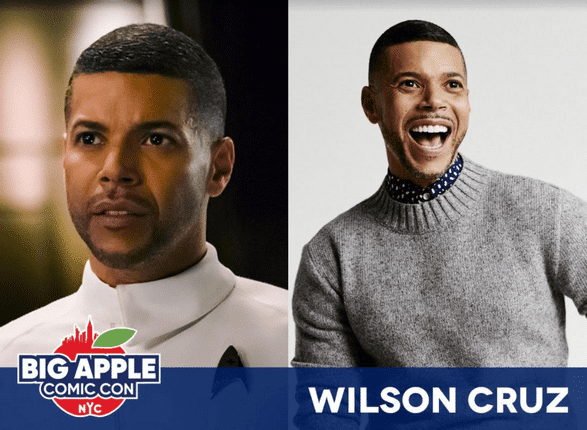 Press Release:
Wilson Cruz, Sherilyn Fenn & More Coming To Big Apple Comic Con April 14-15!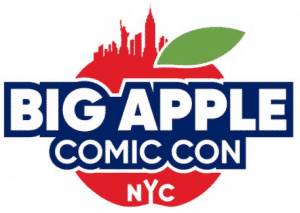 MIKE CARBONARO's BIG APPLE COMIC CON, New York's longest-running Comic Book Convention, is thrilled to announce the appearance of popular media legends WILSON CRUZ (Star Trek: Discovery) and SHERILYN FENN (Twin Peaks)! Aside from these two incredible talents, BACC will have two incredible days of dozens of media celebrities, top comic book creators, writers, exhibitors, retailers, and cosplayers. All will peaceably but riotously occupy the building to entertain and edify thousands of NYC's coolest fans!
MEDIA GUESTS
Our media guest list this year is our finest ever, bringing you a unique, star-studded­ experience! Meet:
WILSON CRUZ (Star Trek: Discovery, My So-Called Life)
SHERILYN FENN (Twin Peaks, Shameless)
JENNIFER CIHI (Sailor Moon, Princess Mononoke)
MICHAEL COPON (Power Rangers Time Force, One Tree Hill)
JOHN O'HURLEY (Seinfeld, Archer)
C.J. RAMONE (The Ramones)
JOHNATHON SCHAECH (DC's Legends of Tomorrow, Ray Donovan)
LUA STARDUST (Professional Cosplayer, Model)
JÉNEL STEVENS (Black Panther, Luke Cage)
LARRY STORCH (The Batman/Superman Hour, F Troop – Saturday only)
TAIMAK (The Last Dragon)
ARTIST GUESTS
Comic lovers can rejoice as we have a great assortment of writers and artists from Marvel, DC, and every independent in between:
SY BARRY (The Phantom)
REILLY BROWN (Deadpool)
BOB CAMP (Ren & Stimpy)
JOHN CASSADAY (Astonishing X-Men)
SEAN CHEN (Iron Man, X-O Manowar)
PETER DAVID (The Incredible Hulk, Babylon 5)
GLENN FABRY (Preacher, The Authority)
RAMONA FRADON (Metamorpho)
JOE GIELLA (Batman)
MICHAEL GOLDEN (G.I. Joe, The Walking Dead)
BRIAN KONG (Cryptozoic Entertainment)
ELAINE LEE (Starstruck)
TOSHIO MAEDA (Urotsukidōji)
ALEX MALEEV (Daredevil, Batman)
JOHN ORLANDO (Cybergen, Gene Roddenberry's The Universe)
ESAD RIBIC (Thor: God of Thunder)
SCOTT ROBERTS (SpongeBob Comics)
MIKE ROYER (The Demon)
MARK SCHULTZ (Xenozoic Tales, Prince Valiant)
JIM SHERMAN (Superboy and the Legion of Super-Heroes)
J. DAVID SPURLOCK (The Alluring Art of Margaret Brundage)
JIM STERANKO (Captain America)
ARTHUR SUYDAM (Heavy Metal, National Lampoon)
TIMOTHY TRUMAN (Grimjack, Jonah Hex)
BILLY TUCCI (Shi, Sgt. Rock)
RENEE WITTERSTAETTER (Guardians of the Galaxy)DAN FOGEL (Underground Price & Grading Guide)
PROGRAMMING & COSPLAY
Big Apple Comic Con will host an entire Saturday of exclusive programming, including an exclusive panel discussion with WILSON CRUZ (Dr. Hugh Culber, Star Trek: Discovery). Cruz is famous for being part of the Star Trek franchise's first gay male kiss.
Also on Saturday, Big Apple Comic Con will once again present "Captain Zorikh's Costume Contest." For the past ten years, Captain Zorikh has brought what is known to be the most fun costume contest on the East Coast, bringing together the most amazing cosplayers and costumers for a fast-paced day of creative excellence. Come as any media character or make up your own! Also present will be professional Cosplayer LUA STARDUST.
SHOPPING
Lovers of comics, sci-fi, fantasy, horror, and cosplay of all persuasions will find something for everyone while shopping for comic books, toys, posters, videos, original art, clothing & other collectibles, from the rarest as well as the newest and coolest goodies!
TICKETS
Big Apple Con, Penn Plaza Pavilion April 14th & 15th 
Adults: $25 Saturday – $25 Sunday – $40 Weekend
Children 6-13: $14 per day
Children under 5: FREE
Check our website for info on our special Early Admission Package!
TICKET PURCHASE & INFORMATION: www.bigapplecc.com
SOCIAL MEDIA:
Facebook:
Big Apple Convention
Twitter:
@bigapplecomicon
Instagram:
@bigapplecon