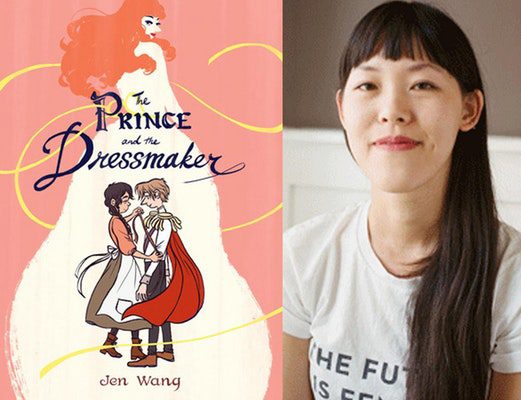 Cartoonist Jen Wang appears in a panel discussion with Cory Doctorow, Molly Knox Ostertag, and Tillie Walden at Chevalier's Books on Thursday, March 15, 2018 at 7:00 PM.
Noted Los Angeles-based cartoonist and illustrator Jen Wang will be in store to present her new, illustrated Y.A. novel, The Prince and the Dressmaker. Her works have appeared in the Adventure Time comics and LA Magazine and she recently illustrated Tom Angleberger's Fake Mustache. Her graphic novels Koko Be Good and In Real Life were published by First Second.
Joining Ms. Wang at Chevalier's will be her previous author-in-crime, Cory Doctorow, co-editor of Boing Boing and a columnist for multiple publications including the Guardian, Locus, and Publishers Weekly. His award-winning novel Little Brother was a New York Times Bestseller.
Also taking part in the panel discussion will be Molly Knox Ostertag, who studied cartooning at the School of Visual Arts in New York City and now lives in Los Angeles. While at school she started drawing the award-winning webcomic Strong Female Protagonist, which continues to update and be published through Kickstarter and Top Shelf Comics.
Last, but not least, is Tillie Walden, a two-time Ignatz Award–winning cartoonist from Austin, Texas. Born in 1996, she is a recent graduate from the Center for Cartoon Studies, a comics school in Vermont. Her comics include The End of Summer and I Love This Part, an Eisner Award nominee.
Chevalier's Books
126 N Larchmont Blvd, Los Angeles, CA 90004
(323) 465-1334