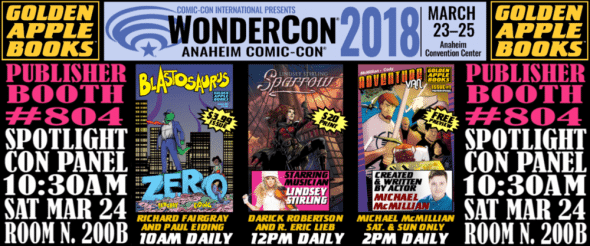 Press Release:
Golden Apple Books, a new comic publishing extension of Golden Apple Comics, will debut three new titles this year, you can hear about all of it and meet our creators at WonderCon Anaheim on March 23-25 at booth #804. Also, don't miss our spotlight panel Saturday, March 24th from 10:00 -11:30 AM in Room North 200B.
Signing Schedule:
Friday, Saturday & Sunday
10am – Richard Fairgray – Grab the debut prequel issue #00 of Blastosaurus and an autograph & doodle for only $3.99!
12pm – Darick Robertson (Happy!, The Boys, etc.) & R. Eric Lieb (CBGB, Turistas) They are the co-writers of the new series Sparrow that stars musical sensation Lindsey Stirling. Darick is the creator of the comic as well as the cover artist and penciler. FREE signed poster and a limited edition print by Darick for $20
Saturday Only:
12pm Meet legendary voice actor Paul Eiding, famous for Transformers, Metal Gear Solid, Ben 10, and more. He is the co-writer of Blastosaurus and will sign your copy of the debut issue #00!
Saturday & Sunday Only:
2pm Meet actor and author Michael McMillian (True Blood, Crazy Ex-Girlfriend) and grab a FREE autograph and preview copy of his new series Adventure Van!